How to Make Homemade Granite Cleaner
There's a reason granite is such a popular choice for countertops. It offers timeless beauty, and it's very durable. However, it's not completely impervious to damage.
In fact, you might be causing damage to your granite countertops if you're using a vinegar-based homemade cleaner. That's because vinegar can pit and etch granite. In addition to granite countertops, check out the other things around your house you shouldn't clean with vinegar.
Fortunately, it's very easy to make homemade granite cleaner.
Related: Do Cleaning Products Cause Cancer?
Ingredients for Homemade Granite Cleaner
Directions for DIY Granite Cleaner
Pour the rubbing alcohol into the glass spray bottle.
Add three drops of dish soap.
Fill the rest of the bottle with water.
If you want your DIY granite cleaner to have a light fragrance, add a few drops of your favorite essential oils.
Give the mixture a light shake to combine the ingredients.
Spray the mixture on your countertops, and use an organic unbleached cotton unpaper towel to clean and dry them.
Natural Cleaning Recipe Cards
If you're like me, you find one of the hardest parts of natural cleaning is actually remembering how to make all of these homemade cleaning products. That's why we've created this bundle of DIY natural cleaning recipe cards and labels!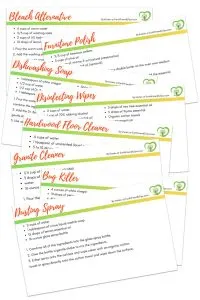 Not only does this bundle include over 25 recipe cards and labels for natural and non-toxic DIY cleaning products, but it also comes with a guide on my favorite essential oil cleaning blends and a cheat sheet on natural cleaning ingredients you should never mix together.
If you're searching for an easy and stylish way to remember how to make your favorite DIY cleaning product recipes, you'll absolutely love this bundle!
A Few Notes About Using the Homemade Granite Cleaner
When you're looking for the best way to clean your granite countertops, you want to avoid harsh cleaners, such as bleach, ammonia, and vinegar. They can wear down the sealant on your granite and leave it open to damage.
Related: How to Make an Eco-Friendly Kitchen
This DIY granite cleaner has several ingredients that not only makes it a great cleaner, but also won't damage your countertops. The rubbing alcohol leaves a nice shine and disinfects your countertops. Additionally, the dish soap will help cut through any grease or grime on your granite countertops.
Related: The Best Eco-Friendly Dish Soap
You have the option of adding essential oils to this cleaner to give it a fresh scent. However, make sure you don't use any citrus oils, such as lemon or orange. This is because citrus can also damage your granite.
You'll be happy to know this granite cleaner is also ideal for your tile floors! Another great option for cleaning your tile floors is this homemade tile floor cleaner that doesn't use vinegar.
If you're wondering why I always recommend organic unpaper towels over microfiber cleaning cloths to wipe up your natural cleaning products, this post explains why organic unpaper towels are the more eco-friendly choice.
Other DIY Cleaners
Interested in making more homemade cleaners to help you save money, keep your family healthy, and help the environment? Check out some of our other popular options: