Eliminate Plastic Waste With the Best Beeswax Wraps
Long before plastic wrap was invented, people would wrap food in wax paper to prolong its freshness. Today, as more people realize the health and environmental harm of plastic wrap, they're making the switch to reusable beeswax wraps.
As beeswax wraps become more popular, you'll find numerous options on the market. If you're feeling crafty, you can even make these wraps yourself. So how do you know which wraps will suit your needs?
Over the years, I've used a variety of reusable beeswax wraps, and I can confidently say these wraps are the best. They've lasted a long time, they're easy to use, and they've done a great job wrapping and covering all types of things.
When you're ready to make your kitchen more eco-friendly and reduce all that waste from plastic wrap, make the switch to one of these best beeswax food wraps.
Related: Must-Have Eco-Friendly Kitchen Products You'll Love
Is Plastic Wrap Toxic?
Two of the worst chemicals to look out for in plastic are phthalates and bisphenol A (BPA). These chemicals are known as endocrine disruptors. This means they affect natural hormone production in our bodies and can lead to cancer, problems with the reproductive organs, and several other health concerns.
This is just one reason why it's so important to make sure we're using the top plastic-free baby bottles and the best non-toxic sippy cups when we're feeding our children.
Related: Essential Eco-Friendly Baby Products All Parents Need
While most plastic wrap doesn't usually contain BPA or phthalates, one test done by Good Housekeeping magazine found low levels of both in Glad Press n' Seal wrap. However, most plastic wrap is made of polyvinyl chloride (PVC) and contains a chemical called di(2-ethylhexyl)adipateor (DEHA). While DEHA isn't a phthalate, it's chemically very similar to the phthalate DEHP.
Studies have found that DEHA can leach from plastic wrap into food. Other research has discovered that DEHA can cause liver tumors in mice, breast cancer in women, and reproductive issues in men.
One study also found foods wrapped in plastic wrap have DEHA levels higher than what's recommended and permitted by European regulatory agencies.
Plus, we already know we can't recycle plastic wrap and it will never biodegrade. So every time we use it once and then throw it away, it ends up sitting in landfills or making its way into our waterways where it can kill aquatic wildlife.
Benefits of Using Beeswax Wraps
Fortunately, beeswax wraps don't have the same health and environmental concerns as plastic wrap. These wraps are typically made of organic cotton fabric infused with beeswax. Many wraps also have pine resin for its stickiness and jojoba oil for its natural antibacterial properties.
If you're interested in getting a more complete look at how beeswax food wraps are made and how to use them, don't forget to check out this guide on everything you need to know about beeswax wraps.
Here are some other benefits you'll enjoy when you use beeswax food wrap:
Easy to use.
Simple to take care of.
Helps food last longer by letting it breathe.
Completely biodegradable at the end of its useful life.
To help your wraps last as long as possible, be sure to take a look at this useful guide on how to care for your wraps.
Top Beeswax Wraps for Your Kitchen
Now that you know more about the dangers of plastic wrap and the benefits you'll enjoy when you make the switch to reusable food wrap, check out these top options that you'll love.
1. Etee
If you're searching for the best affordable beeswax wraps, you'll love the selection offered at Etee. You'll find sizes that range from small to extra-large. You can even pick up sets that have several of each size so you always have what you need.
Plus, instead of using wasteful plastic snack bags, you can get reusable beeswax food bags in every size you can imagine. Both the wraps and the bags form a breathable, protective, and antimicrobial seal over your food to help it stay fresh longer.
Are you vegan? That's not a problem! Etee also has vegan food wraps that work just as well as the beeswax types.
2. Bee's Wrap
You can wrap up leftovers, protect baked goods, cover bowls, and more with these reusable wraps from Bee's Wrap. Not only are they a sustainable and natural alternative to plastic wrap, but they also come in fun prints that you'll absolutely love.
If you're just getting started, you can buy the variety pack that has a small, medium, and large wrap. Or, if you simply need to expand your collection, you can buy the single wraps in various sizes. They even have a vegan option available if you prefer using something entirely plant-based!
Best of all, these wraps come from one of the best online zero waste shops. This means you know you can get all of your eco-friendly essentials delivered right to your door without having to worry about any excess plastic waste!
Related: How to Get Affordable Organic Food Delivered to Your Home
3. Tru Earth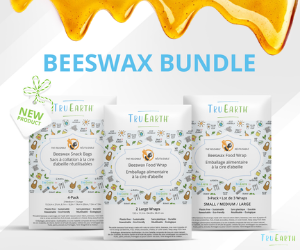 You might be familiar with Tru Earth because of their fantastic eco-friendly laundry strips. But did you know they also make beeswax food wrap?
Their wraps are lightweight, flexible, and perfect for storing fruits, vegetables, cheese, bread, and more. The convenient assorted pack comes with a small, medium, and large wrap.
Or you can get two large wraps separately. This size is ideal for packing a zero waste lunch, making it easier to reduce waste on your vacations, and more.
Tru Earth also makes beeswax snack bags that can easily store everything from sandwiches to all of your favorite snacks.
Related: 55+ Genius Alternatives to Single-Use Plastic You'll Absolutely Love
4. Wrappa
Beeswax food wraps are a great natural alternative to wasteful plastic wrap. But for the longest time vegans and anyone else wanting a plant-based option were out of luck.
Fortunately, that's not the case anymore. Plenty of companies are now offering vegan reusable food wrap, including Wrappa! They come in adorable prints, and they're great for storing all kinds of leftovers.
The wraps come in a handy three pack with two different sizes. They're also handmade from a family-owned company using top-quality ingredients, so you know you're getting something that works great and will last!
Related: How to Freeze Food Without Using Plastic
5. Life Without Plastic
Life Without Plastic has an outstanding selection of beeswax products that make it possible for you to swap out pretty much all of your single-use plastic products with a sustainable alternative.
If you're just getting started, this set of wraps is a fantastic option because it comes with one small, one medium, and one large wrap. The snack size waxed bag is perfect for holding nuts, chips, pieces of fruit, or anything else you like to snack on.
If you need something bigger, this large organic cotton waxed bag is the perfect size to hold all types of goodies. You can even get this reusable waxed cotton bowl cover to easily wrap around bowls and keep your food protected.
Related: The Best Reusable Paper Towels for Your Kitchen
6. Beeswax Wraps
Not only is making the switch to reusable food wrap a fantastic way to reduce waste, but it's also a great way to save money.
Related: The Cheap and Easy Way to Go Zero Waste
Unlike plastic wrap, which you have to keep buying as you use it once and then throw it away, you can use your wraps again and again. All you have to do is clean them after each use!
These Beeswax Wraps are affordable, sustainable, easy to use, and come in all kinds of prints and designs that you'll adore. Best of all, since each pack includes three different sizes, you can immediately start using them to wrap up all of your leftovers.
7. Khala & Company
Khala means "food" in Tibetan, and the reusable wraps from Khala & Company are the perfect way to protect and store your food without using any plastic.
Related: How to Easily Reduce Food Waste at Home
Their wraps are made from all organic and natural ingredients and certified by Green America, so you can feel secure knowing your food isn't touching any toxic chemicals. The variety pack is perfect for starting your collection since it comes with a mini, small, medium, and large wrap.
Don't forget they also have vegan reusable food wrap in everything from a convenient variety pack to an incredibly useful sandwich bag wrap.
You can get Khala & Company from EarthHero. If you decide to try them out, be sure to use the code EARTHFRIENDLY to get 10% off your purchase!
Related: The Best Eco-Friendly Alternatives to Common Household Products
8. Abeego
Abeego food wraps protect your food while still giving it space to breathe, which can help extend the freshness of your food. Plus, it comes in a variety of sizes that you'll truly appreciate.
If you're just starting your collection, the variety pack is an excellent option that includes three sizes. If you need more specific sizes, you can get the small that includes six wraps, the medium with three wraps, or the large that has two wraps.
You can even get an extra-large wrap that comes with one giant sheet that's perfect for wrapping bread, big pieces of fruit and veggies, covering bowls, and more.
Related: Must-Have Zero Waste Products for Beginners
Best Beeswax Wraps for a Zero Waste Kitchen
Plastic food wrap is annoying, wasteful, and potentially toxic. Fortunately, you never have to use it again. Once you start using one of these best reusable beeswax food wraps, you'll kick yourself for not making the switch sooner!
More Fantastic Eco-Friendly Living Tips
Did you enjoy learning more about the best beeswax wraps? Are you interested in checking out even more helpful posts about eco-friendly living? Then please be sure to take a look at some of our other popular posts: