Plastic Free Shopping at the Best Zero Waste Online Shops
If you're interested in cutting back on your waste and plastic packaging, shopping zero waste is the perfect solution. These best zero waste online shops are a one-stop-shop where you can find all of the zero waste supplies you need for a more sustainable and eco-friendly life.
Why Shop Zero Waste?
It's always frustrating when you buy something online and it comes with a ridiculous amount of plastic packaging. We know plastic is bad for our environment, and we're always trying to reduce our plastic use as much as possible. That's why zero waste living is becoming more and more popular all the time.
In a perfect world, every community would have a zero waste store where you can shop in person for everything you need. Unfortunately, we all know this isn't a perfect world.
While new zero waste shops are opening all the time, not every community has one. If your area doesn't have a zero waste shop yet, that doesn't mean you have to shop at big box stores that create tons of waste. Instead, you just need to check out these best zero waste online shops.
Related: Where to Buy Affordable Organic Food Online
1. Etee
Etee stands for "everything touches everything else," and it's a good way to think about our relationship with the world. The company got its start the day the owner realized one of his favorite rivers to kayak was choked with plastic waste.
When you shop at Etee, you'll be able to find everything from zero waste oral care supplies to beeswax food wrap for your kitchen. You can also shop for soap concentrates, gifts, food storage products, and more.
Related: How to Care for Beeswax Food Wrap
Everything from the packaging used for shipping to the products you order are completely plastic-free. Additionally, all of the products are made with natural materials that you can either recycle or biodegrade when they've reached the end of their useful life.
2. EcoRoots
EcoRoots is a small business founded in Aspen, Colorado. The company's mission is to offer high-quality, affordable, plastic-free items that can help you reduce your waste.
Related: How to Go Zero Waste on a Budget
To make this possible, EcoRoots ships all of its products using plastic-free, recyclable materials. You'll also find a variety of carefully curated eco-friendly and zero waste products that are cruelty free and designed with the environment in mind.
It's one of the best zero waste online stores to find everything you need for a eco-friendly oral care products. You'll also find a nice selection of natural health and beauty products.
Related: The Best Zero Waste Makeup Brands
In addition to offering plenty of sustainable essentials, EcoRoots also donates a portion of each sale to Ocean Conservancy to help protect and clean important waterways around the world.
3. EarthHero
I like to call EarthHero the Amazon of the eco-friendly world because it's an online shop where you can find just about everything you need for your zero waste and low waste lifestyle. The website offers brands that are taking important steps in the right direction to help create a more sustainable future.
The company has a zero waste office, which means they reuse, recycle, or compost everything they can. Part of this means they also reuse shipping boxes and materials that they're sent.
Any stickers you find inside or outside your box are compostable. Plus, if you receive any product samples in your package, they will be in the most eco-friendly packaging available.
One of my favorite products available at EarthHero is the Cora Microfiber Laundry Ball, which is great for helping to reduce microfiber pollution in the washing machine.
If you decide to shop at EarthHero, you can use the code EARTHFRIENDLY to get 10% off your order.
4. Jungle Culture
Jungle Culture started as a way for the world to break their addiction to the wasteful and harmful plastic straw. Today, they offer everything from reusable cutlery to zero waste bathroom products.
Everything they sell is made from sustainable materials and ethically created to protect both people and the planet.
Their coconut shell bowls are some of their most popular products. These bowls are so beautifully designed, they're almost works of art. They also make a great affordable eco-friendly gift!
Even though they're headquartered in Britain, Jungle Culture offers fast shipping throughout the world. Plus, they use recycled cardboard boxes, paper-stuffed envelopes, and paper tape to make sure everything you receive is completely plastic-free!
5. ZeroWasteStore
ZeroWasteStore launched in 2018 to make a positive impact on the planet. The company realized that conventional consumer products were creating an unsustainable amount of waste that was only worsening the environmental problems threatening our very lives.
Today, it's one of the top trusted marketplaces for sustainable brands and zero waste products. The company currently carries over 200 low waste and eco-friendly brands, which means you know you'll have no problems finding what you need.
You can easily browse by brand or by interest. You can also narrow down products by core values, such as organic, compostable, vegan, or plastic-free.
Since categories range from sustainable apparel to pet care, you can get the essentials you need for every part of your life.
Related: The Best Sustainable and Ethical Clothing Brands for the Entire Family
6. Sister Collective
The Sister Collective has an amazing selection of eco-friendly home products to help you get started on your journey toward more sustainable living.
They understand that when more people are able to make small, eco-friendly changes in their lives, everyone in the world benefits. That's why their mission is to make sustainable living as easy as possible.
If you're interested in switching to reusable food storage bags as part of a zero waste kitchen, you'll love the variety of options you can find at Sister Collective. Are you interested in zero waste grocery shopping? Then you definitely need to pick up a set of the organic cotton reusable produce bags.
Related: The Ultimate Guide to Zero Waste Grocery Shopping
No matter what you decide to order, you can rest assured the Sister Collective will ship your items with minimal packaging to help reduce unnecessary waste.
7. Life Without Plastic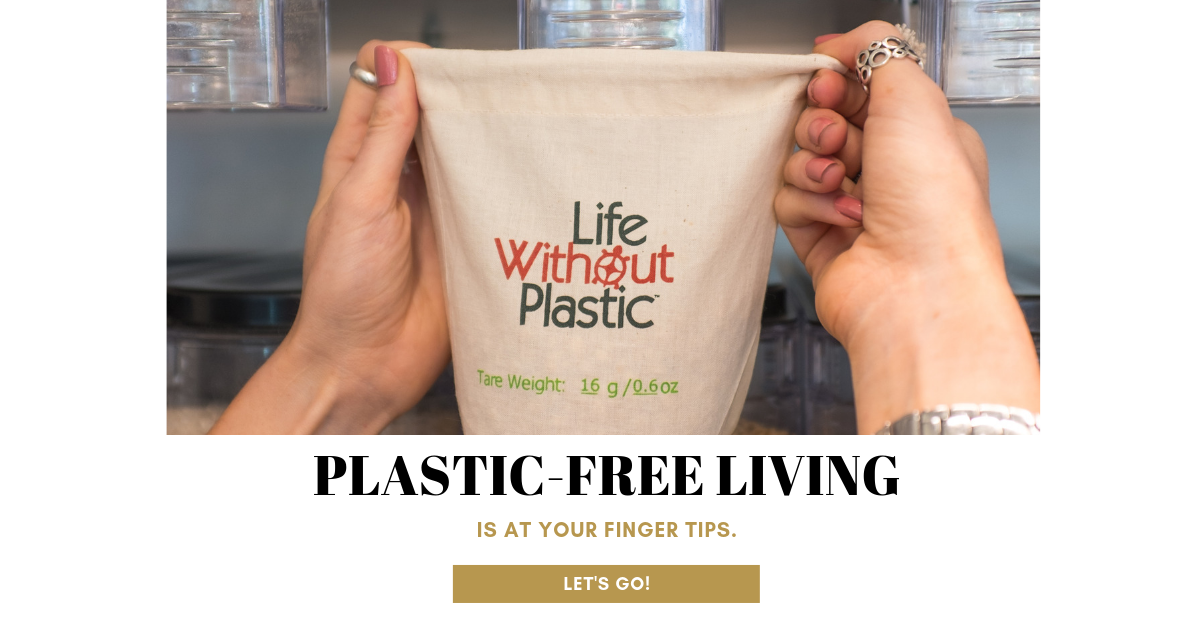 Just like the name suggests, Life Without Plastic is striving toward a world that's free from fossil-fuel derived plastics. To do so, the company works to highlight the health and environmental dangers posed by plastics and help as many people as possible live a plastic-free life.
Related: 50+ Genius Alternatives to Plastic
Life Without Plastic is one of the best zero waste online shops because it offers pretty much everything you need. You can get plastic-free eating and drinking items, plastic-free products for your bathroom, and on-the-go plastic-free essentials.
The company even offers an awesome subscription box service that includes a variety of carefully selected products that can help you fight plastic pollution. While some of the products are announced ahead of time, others are a complete surprise!
8. Well Earth Goods
Well Earth Goods is a great zero waste online shop for supporting a waste-free and minimalist lifestyle. The company is based in Southern Oregon and offers a variety of products that use sustainable resources to help you minimize waste.
Related: Easy Steps to a Zero Waste Kitchen
The company's goal is to reduce as much plastic use as possible to protect our health and the health of our oceans and planet. Some of the popular products available include zero waste toothpaste, lotion bars, and zero waste cleaning supplies.
9. Eco Girl Shop
Eco Girl Shop is a great online alternative when you're searching for eco-friendly products. The female-owned company ships all of the orders zero waste and plastic free.
The company also believes in giving back. That's why they've partnered with One Tree Planted to help support global reforestation. For every order placed, at least one tree will be planted.
When you shop at Eco Girl Shop, you can find hair care products, makeup, cleaning products, soap and shampoo bars, essentials for zero waste travel, and more.
10. Tiny Yellow Bungalow
Tiny Yellow Bungalow is a zero waste online shop dedicated to zero waste and plastic-free shipping. In addition to a great selection of zero waste products for your home, you'll also find plenty of unique vintage items.
One popular item available at the shop is the Zero Waste Vegan Cookbook, which offers 28 delicious recipes that use low waste and vegan ingredients. Whether you're trying to serve vegan dishes at Thanksgiving or just looking to switch to a more plant-based diet, this cookbook is the perfect way to help you get started.
11. Earthlove
If you'd like an eco-friendly subscription box that comes from a zero waste online shop, check out Earthlove. You pick out the subscription plan you want, and Earthlove sends you a thoughtfully curated box filled with full-size sustainable and eco-friendly products.
Your box might contain a plastic-free swap, a book, a healthy snack, beauty or skincare products, apothecary or botanical wellness products, and other Earth-friendly items from fair trade makers and artisans.
Best of all, the items arrive in low impact boxes that use FSC-certified paper. Plus the boxes, stickers, and packaging materials are 100% post-consumer, biodegradable and made using environmentally-friendly algae-based inks.
Are you interested in checking out even more awesome subscription boxes? Then be sure to see our post about the best eco-friendly subscription boxes. You'll find options for going zero waste, reducing plastic use, and more!
12. Wild Minimalist
At Wild Minimalist, you'll find plenty of eco-friendly, sustainable, and plastic-free products for your zero waste lifestyle. The company ships its products using recyclable and plastic-free materials. They also use biodegradable shipping peanuts for glass items and seal boxes with paper packaging tape.
Some of the popular options in the store include zero waste kits, cleaning products, bags, and plastic-free baby and child items, such as plastic-free sippy cups. Plus, you can enjoy free shipping on all orders in the continental United States!
13. Zero Market
If you live near Aurora, Colorado, you can stop into Zero Market and shop the state's first zero waste store in person. However, even if you're not in the area, you can still check out their products since Zero Market is another one of the top zero waste online shops.
While the brick and mortar store has a larger selection than the online side, you can still shop for zero waste gift kits, grocery and to-go items, home and cleaning products, food and drink containers, and beauty and hygiene products, such as a safety razor for beginners.
Zero Waste Online Shops for Sustainable Living
Cutting down on your waste is an important part of fighting climate change and global warming. Fortunately, even if you don't have any zero waste stores in your community, you can still reduce your waste when you purchase your household essentials at these best zero waste online shops.
More Zero Waste Tips
Now that you see how easy it is to get everything you need at these top zero waste online shops, are you interested in even more great tips for zero waste living? Then be sure to check out some of our other popular posts: