7 Easy Steps to a Zero Waste Cookout
Cookouts are a classic summer tradition, yet they can also produce A LOT of waste. The thing is they don't have to produce any waste at all. If you're interested in making your barbecue parties more sustainable, check out these easy tips on how to have a zero waste cookout.
Related: How to Help Kids Have a Sustainable Summer
1. Use Natural Decorations
As you're getting ready for your cookout, you'll probably want to put up some decorations to make everything more cheerful and festive. Instead of using dangerous balloons and wasteful plastic decorations, think about what kind of natural decorations you can use.
Related: 15 Plants That Naturally Repel Mosquitoes
Wildflowers in glass mason jars make adorable table decorations. If you're really talented, you can even make wreaths and swags using wildflowers.
Rather than hang up plastic or paper bunting, invest in some beautiful fabric bunting that you can use year after year. If your cookouts tend to last until well after the sun goes down, don't forget to hang up some solar powered outdoor string lights.
Related: The Best Natural Bug Spray That's Safe for the Entire Family
2. Let People Know
One of the most important parts of throwing a zero waste cookout is letting your guests know about your intentions. Chances are good zero waste living will be a bit of a new concept for them, so they might need some help understanding some of the changes you'll be making.
For example, you might need to let your guests know that bringing recyclable items is fine. However, if it's a potluck cookout, they'll want to bring their food in a reusable dish with a lid instead of a disposable dish covered in plastic wrap.
Related: Everything You Need to Know About Beeswax Food Wrap
3. Choose Reusable Items
One of the biggest differences between a regular cookout and a zero waste cookout is what you and your guests will use to eat and drink. Obviously, reusable items are the best choice. However, there are some practicality issues you'll have to work through.
Plates and Utensils
If you know you won't have enough plates and utensils for everyone, ask your guests if they can bring their own.
Since cookouts tend to mean a bunch of kids running around and adults occasionally bumping into each other, using ceramic plates isn't always the safest option. Instead, consider stainless steel or bamboo, which are both sustainable, reusable, and durable. Here are several excellent options:
Yes, using real plates and utensils does mean you have to wash them, but there are a few things to keep in mind. First, having to wash some dishes is a small price to pay for keeping all of that trash out of the landfill. Second, if you have a dishwasher, you can simply make sure it's empty right before your cookout, load it up when the cookout is done, and wake up the next morning to sparkling clean dishes!
Related: How to Make DIY Dishwasher Detergent
Finally, if the cookout is winding down and your friends ask if there's anything they can do to help, go ahead and let them wash a few dishes. Trust me, you're not a terrible host for accepting their offer, and they wouldn't offer if they weren't sincere in wanting to help.
Also, don't forget to set out some type of bin where your guests can place their dirty dishes.
Related: The Best Zero Waste Dish Soap
What About Compostable Tableware?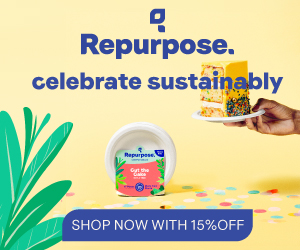 If you must use something disposable, consider compostable tableware from Repurpose. They offer everything from plates and cups to bowls and utensils.
Not only is everything amazingly affordable (pretty much right on par with what you would pay for disposable plastic items), but they're also durable, cut and leak resistant, and they'll break down in around 180 days.
Related: How to Compost for Beginners
Plus, since they're made from sugarcane scraps and wood pulp, they're totally non-toxic and don't contain any PFAS! If you decide to get compostable tableware from Repurpose, be sure to use the code EARTHTIPS to enjoy 15% off your order!
Napkins
Now, what about napkins? We use these cloth napkins around our house every day to help us reduce our paper towel use. But again, you might not have enough for everyone you're inviting to your zero waste cookout.
If that's the case, bandanas make an outstanding budget-friendly alternative. You can also use pretty much any type of fabric scraps you have around the house.
Like the dishes, you'll probably want to put out some type of bin or hamper where guests can toss their dirty napkins so you can wash them when the cookout is over.
Related: How to Create an Eco-Friendly Laundry Room
4. Serve Plenty of Plant-Based Foods
When you're planning your zero waste cookout, don't forget about your menu. One of the biggest sources of household waste is from food packaging.
A simple way to eliminate this waste is to purchase unpackaged foods, and fruits and vegetables are the easiest things to get unpackaged. If you need more ideas, be sure to check out this post on how to accomplish a zero waste grocery shopping even if you don't have a bulk food store.
Plus, if you need some inspiration on food you can serve during your zero waste cookout, here are some delicious vegan and vegetarian recipe collections to check out:
5. See What You Can Borrow
If you need something extra for your cookout, see if you can borrow what you need from friends or family before you go out and buy new items. Asking guests if they can bring their own lawn games is a great way to have a variety of entertainment options at your cookout.
These sponge water bombs are one popular toy we always have at our cookouts. Kids and adults both love them because they're the perfect substitute for water balloons in a water balloon fight. The best part is the fun can go on for hours and nobody has to walk around and pick up all those little pieces of broken balloon!
If you end up needing extra supplies that nobody has, you can either see about renting them or you can check out your local secondhand shops and thrift stores.
Related: The Best Biodegradable Garbage Bags
6. Build Your Supply Over Time
If you often host cookouts and you have the storage space, it might be a good idea to build up your collection of reusable party supplies over time. One of the easiest ways to go zero waste on a budget is to keep an eye out for sales.
This is also a fantastic way to stock up on your supply of cookout items. Plus, don't forget to browse your secondhand and thrift stores from time to time to see if you can get plates, bowls, cups, and utensils.
Related: Easy Steps to a Zero Waste Kitchen
7. Hide the Trash Can
During your next zero waste cookout, go ahead and hide that trash can but make sure your dirty dishes bin, dirty napkin hamper, recycling bin, and compost bin are clearly visible. You might be surprised at how quickly people adapt and place things in the right bins.
The worst that can happen is that they can't figure out where to throw things away, so they'll ask for help. At that point, you or someone else can help them sort their items into the correct bins.
Related: Genius Ways to Reduce Waste This Very Second
How to Have a Zero Waste Cookout
Your summer BBQs don't have to produce a ton of waste. Instead, you can still enjoy all of your favorite activities when you follow these simple tips on how to have a zero waste cookout.
More Outstanding Zero Waste Tips
Now that you know more about how to have a zero waste cookout, are you interested in checking out even more useful zero waste living tips? Then please be sure to explore some of these other popular posts: