Zero Waste Dish Soap: 11 Brands for Clean Dishes and a Clean World
Whether you have a goal of creating a zero waste kitchen, or you're simply trying to live a more eco-friendly life, making the switch to a zero waste dish soap is an important thing to do.
Related: Easy Steps to Making a Zero Waste Kitchen
After all, even popular dish soap brands that advertise as being good for the environment can actually contain toxic chemicals that are bad for your health and terrible for aquatic wildlife.
But can zero waste dish soap actually get your dishes clean? Absolutely! So learn more about the best eco-friendly dish soap that you can start using in your kitchen right away.
First Thing's First
Before we even jump into our list of the best zero waste dish soap, it's important to talk about how we clean our dishes. After all, dish soap is only part of the equation. We also need something to scrub our dishes clean.
Traditional sponges are popular, but they're also problematic. The soft, spongy side is typically made from some type of natural fiber. However, the scrubby side is often made of nylon or polyester. Not only are these materials not biodegradable or recyclable, but they're also made from nonrenewable resources, such as gas or oil.
Additionally, these sponges are a breeding ground for germs and bacteria. And those are definitely not things you want on something you use to clean your dishes!
I've spent more time and money than I care to admit trying to find the perfect eco-friendly sponge to use in my kitchen. After trying out pretty much every option out there, here's what I've found to work the best.
These loofie scrubbers from Etee are fantastic! They have a soft cellulose-cotton side that's ideal for wiping away messes and cleaning delicate dishes. They also have a loofah side that quickly and easily scrubs away harder-to-clean messes without scratching or damaging the surface.
In addition to the loofie scrubbers, I also use this wooden dish brush. It works on everything from pots to dishes. Best of all, when the brush wears out, I can simply save the handle and use a replacement brush head to reduce my waste!
If you don't like the long handle of the dish brush, you can also get a dish scrubber that has a smaller handle that fits nicely in the palm of your hand.
Related: Make the Switch to These Best Reusable Paper Towels
1. Power Dish Spray
This refillable power dish spray from Dropps contains micro-scrubbing technology and plant-based ingredients that instantly cut through stuck-on food and grease to reveal sparkling clean dishes. Since the ultra-concentrated formula quickly cleans up messes and rinses away tough stains, you'll be able to save time and water when you're cleaning the dishes!
When you first purchase the power dish spray, choose the starter kit so you can get the refillable spray bottle and the bottle of soap concentrate. When you need to refill, just fill the spray bottle with water, add the concentrate, and shake gently to combine.
When you finish a bottle of the concentrate, you can reuse or recycle the glass bottle and simply order another bottle of soap concentrate. The power dish spray is available in either unscented or Lemon Verbena scent.
No matter which one you decide to use, you can rest assured both options are biodegradable, vegan, and cruelty-free.
Interested in trying Dropps? If you're a new customer, be sure to use the code EarthTips25 for 25% off. Already a Dropps customer? No problem at all! You can enjoy 15% off when you use the code EarthTips15.
2. Dish Soap Concentrate
This dish soap concentrate from Etee is absolutely incredible! It comes in an all-natural, biodegradable pod that's super easy to use.
All you have to do is fill a soap dispenser with 12.5 ounces of water, open up the pod, and squeeze the soap concentrate into the water. Give the mixture a good stir to combine everything, and then wait about an hour before you use it.
After you make the soap, toss the pod into your compost bin so it can biodegrade. When it's time to do your dishes, you can squirt some soap on your sponge and clean away.
Related: Everything You Need to Know About How to Compost
If you're sensitive to fragrances, you'll be pleased to know you can also get an unscented soap concentrate.
3. Plastic-Free Dish Soap Bar
A little bit of this plastic-free dish soap bar goes a long way! Plus, it offers a powerful clean that cuts through grease like a dream.
All of its ingredients are plant-based, which means it doesn't contain any SLS, synthetic foaming agents, phthalates, parabens, or unnatural preservatives. It also isn't made with synthetic fragrances. Instead, it has a light, natural scent of coconut and lemon.
To use it, just keep it on a soap dish next to your sink. Wet a sponge or brush, rub it on the soap bar to get some suds, and clean your dishes like usual.
Related: 7 Best Eco-Friendly Dishwasher Detergents for Naturally Clean Dishes
4. Castile Soap
If you like to DIY, consider making your own dish soap. Yep, that's right! You can easily make dish soap right in your own home.
If you're not sure how to do it, check out this guide to see exactly what you need to do to make your own zero waste dish soap.
Plus, if you want to make it even easier to create your own natural cleaning products, please be sure to check out our bundle of DIY cleaning products and recipe cards.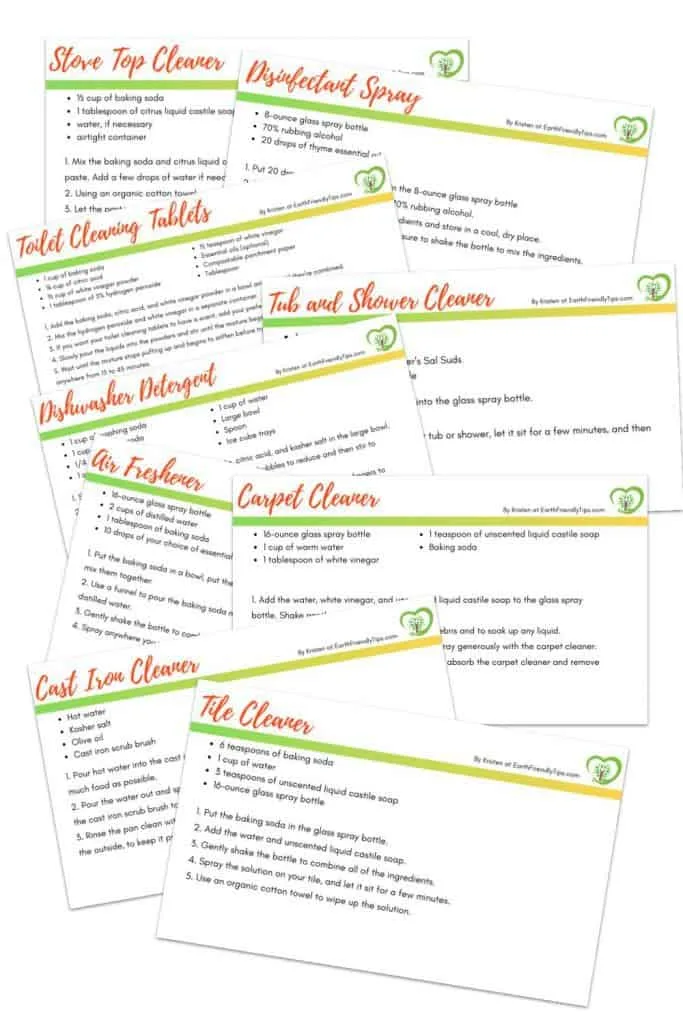 Not only does this bundle include more than 25 natural cleaning products you can make at home, but it also has a cheat sheet on my favorite essential oil cleaning blends and a list of natural cleaning ingredients you should never mix together.
It's a stylish and convenient way to start naturally cleaning your home today!
5. No Tox Life
This vegan dish soap from No Tox Life is amazingly easy to use. Simply place the block of soap on a bamboo soap dish at your sink.
When it's time to do the dishes, scrape off any excess food, rub your sponge or scrub brush on top of the soap block to create some suds, and wash your items. It doesn't matter whether you're cleaning with warm or cold water, this soap works great.
It's also biodegradable, cruelty-free, and fragrance-free. Plus, it contains aloe vera that can help keep your hands smooth when you use it!
Related: How to Make Homemade Aloe Vera Gel
6. Meliora
Tackling dirty dishes is a breeze with this organic castile dish soap bar from Meliora. There are several ways you can use this non-toxic dish soap.
First, you can hold the bar under a running faucet to fill your sink with soapy water. Second, you can wet a sponge or dish brush, rub it over the bar, and wash your dishes like normal.
Related: How to Have a Zero Waste Cookout
The zero waste dish soap lathers easily and rinses well, which makes it perfect for getting your dishes sparkling clean. Plus, Meliora is a member of 1% for the Planet and donates to environmental nonprofits that give back to our Earth.
You can get Meliora dish soap from EarthHero, which is one of the best zero waste online stores. If you decide to try it, be sure to use the code EARTHFRIENDLY to get 10% off your order!
Related: How to Clean and Store Beeswax Food Wrap
7. Cleancult Dish Soap
If you prefer liquid dish soap, this Cleancult dish soap is another excellent option. This soap uses plant-based ingredients to power through grease and grime on your dishes. The soap also contains fresh aloe, which will leave your skin feeling healthy and moisturized.
Related: How to Naturally Ease Eczema
In addition to being vegan, cruelty-free, and non-toxic, the soap also comes in a paper-based milk carton that you can recycle when empty. Plus, this soap is available in a variety of outstanding scents, such as Grapefruit Basil, Blue Sage, Lemongrass, and Sweet Honeysuckle.
8. Bestowed Essentials
This plastic-free dish soap from Bestowed Essentials easily cuts through grease to quickly clean even the dirtiest of dishes.
The zero waste dish soap doesn't contain any fragrances, artificial colors, parabens, sulphates, or preservatives. Instead, it uses a few simple and natural ingredients to deliver an unbeatable clean.
Simply leave the bar on a soap dish by your sink. Then rub a sponge or dish brush on the bar to create some suds. Apply the suds to your dishes and clean like you always do. A little bit of this dish soap goes a long way!
Related: How to Make DIY Dishwasher Detergent
9. Savon de Marseille
Savon de Marseille makes a cube of olive oil soap that does a fantastic job of cleaning your dishes. Amazingly, the soap's ingredients are so simple and pure, it's also completely safe to use as a body and face wash.
Plus, like other bars of dish soap, it's very easy to use. Simply leave the cube next to your sink, rub your sponge or dish scrubber directly on the bar, and then use the lather to wash your dishes.
The vegan and cruelty-free soap doesn't contain any added scents, colors, or preservatives. For more convenience, it also comes in a large cube.
10. Dish Soap Bar
This plastic-free dish soap bar arrives in a paper box. Not only does this help you reduce plastic waste, but it also helps the dish soap have a reduced carbon footprint since you're getting a concentrated soap instead of all that water that usually comes in liquid soap.
Related: How to Easily Reduce Your Plastic Waste
Even though this handmade dish soap contains just four all-natural and vegan ingredients, it's incredibly effective at cutting through grease.
To use it, simply place the bar on a soap dish and rub a wet scrub brush or sponge on the bar to create a lather. Then wash your dishes as usual and rinse them well.
Like other dish soap bars, you want to make sure you let this bar dry completely between uses so it lasts as long as possible.
11. SOMJY
SOMJY makes vegan solid dish soap bars that effectively clean dishes without leaving behind any residue. These biodegradable dish soap bars also come in 100% plastic-free recyclable packaging.
The plant-based soap bars don't contain any unnecessary chemical ingredients like fragrances, dyes, or preservatives. They also don't use any palm oil.
You can use them to clean pots, pans, dishes, baby bottles, and more without having to worry about leaving behind a chemical residue.
Related: The Best Non-Toxic and Plastic Free Baby Bottles
Best of all, you can choose from a variety of luscious scents, including cinnamon/coffee, rice/paprika, and sweet pumpkin/chlorella.
The Best Plastic-Free and Zero Waste Dish Soap
Small, simple changes can have a big impact on your effort to reduce waste. When you make the switch to one of these zero waste dish soaps, you'll love how effectively and easily they can clean your dishes.
More Outstanding Zero Waste Tips
Did you enjoy learning more about zero waste dish soap? Then please be sure to check out a few of our other popular posts on zero waste living: