Homemade Carpet Cleaner That Actually Works
Whether it's a spilled glass of wine or your kids or dogs tracking mud inside, messes will happen on your carpet. When they do, you don't have to turn to toxic chemicals to clean them up. Instead, discover how to make this homemade carpet cleaner that actually works!
Don't have time to DIY? That's OK! Simply check out this post on the best eco-friendly floor cleaner to find a variety of options that are great for cleaning and refreshing carpets and rugs.
Are Carpet Cleaners Toxic?
Store-bought carpet cleaners have a dirty secret: they are VERY dangerous to your health, the health of your family, and the environment.
Related: Are Common Cleaning Products Toxic?
Many carpet cleaners emit a toxic fume called naphthalene, which is a known carcinogen. The Environmental Working Group gives naphthalene an "F" because it has a high level of concern for causing cancer and it's very toxic to aquatic life.
Naphthalene is especially dangerous to children who play on carpets after they're cleaned. Plus, the fumes from carpet cleaners can cause eye, liver, and kidney damage.
Related: No-Fuss Eco-Friendly Indoor Activities for Kids
How to Make Homemade Carpet Cleaner
Now you know why you never want to reach for another bottle of store-bought carpet cleaner. But you still need to clean your carpets. That's when you can use this homemade carpet cleaner!
This natural carpet cleaner is easy to make, requires only a few simple ingredients that you likely already have at home, costs less money than store-bought cleaners, and can work on spot-cleaning furniture and rugs.
Related: How to Use Castile Soap Around the Home
Since all carpets aren't made the same, it's a good idea to test this carpet cleaner in an inconspicuous spot before using it on those big stains.
Ingredients for Homemade Carpet Cleaner
To make your natural carpet cleaner, you'll need to gather the following ingredients:
How to Use Homemade Carpet Cleaner
Add the water, white vinegar, and liquid castile soap to the glass spray bottle. Shake gently to combine.
If you're dealing with dirt or food, vacuum the area to get up as many loose particles as possible. Use the abrasive side of the sponge to gently loosen the dirt and debris.
If you're dealing with liquid, soak up as much of the spill as possible.
Sprinkle the baking soda over the area and spray generously with the carpet cleaner.
Dab and wipe with the cotton unpaper towel to absorb the carpet cleaner and remove the stain. (See why I always recommend using cotton unpaper towels for eco-friendly cleaning.)
DIY Cleaning Product Recipe Cards
Now, if you're like me, you find one of the hardest parts of natural cleaning is actually remembering how to make all of those homemade cleaning products. That's why we've created this bundle of DIY cleaning product recipe cards and labels.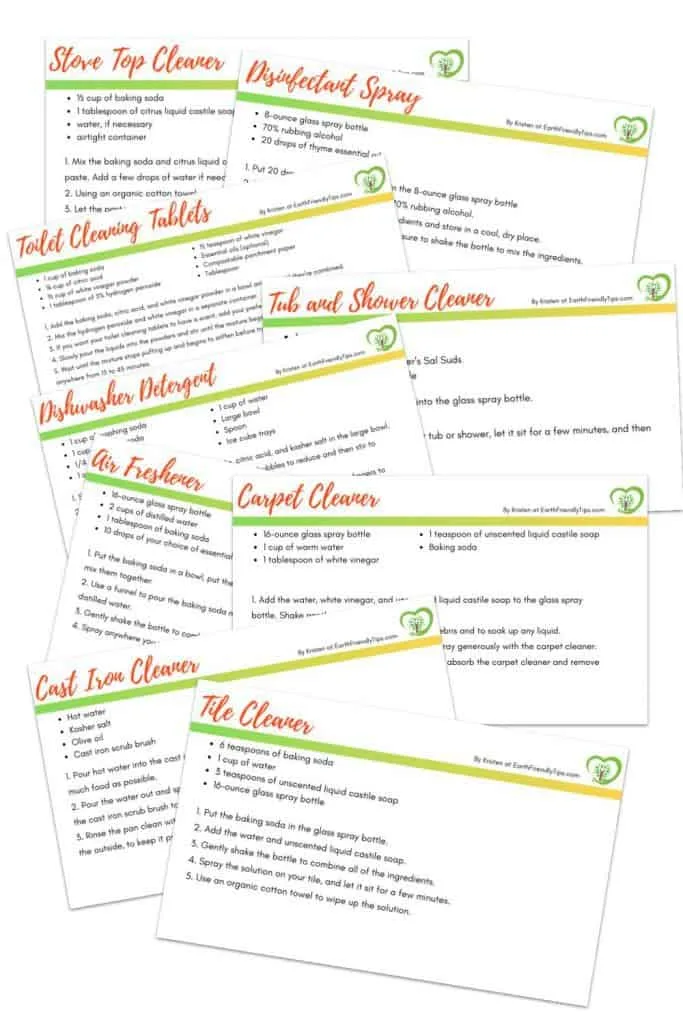 In addition to getting over 25 recipe cards and labels for the best natural cleaning products you can use around your entire home, you'll also receive a cheat sheet on natural cleaning ingredients you should never combine and a guide on my favorite essential oil cleaning blends.
Thanks to this natural cleaning bundle, you'll have no problems remembering how to make your favorite DIY cleaning products and start naturally cleaning every room in your house!
Getting Those Floors Clean
Don't forget about all the other floors in your house. If you have wood floors, you can make a homemade hardwood cleaner or a homemade laminate floor cleaner.
Related: How to Naturally Clean Hardwood Floors
This homemade tile floor cleaner and this homemade grout cleaner are also ideal for the tile in your house.
Messes on carpets happen. But when they do, you don't have to turn to expensive and dangerous cleaning concoctions. Instead, you simply need to make this effective homemade carpet cleaner.
More Eco-Friendly Living Tips
Now that you see how easy it is to make your own homemade carpet cleaner, are you interested in even more eco-friendly living tips? Then be sure to check out some of our other popular posts: