The Best Natural and Non-Toxic Laundry Detergent for Babies
As you embark on the wonderful journey of parenthood, you're probably discovering a whole new universe of choices, and choosing the right non-toxic laundry detergent for babies is no exception. From those adorably tiny onesies to the softest blankets you wrap your little one in, each piece that touches their delicate skin deserves the utmost care.
Of course, while you want your baby's clothes to get impeccably clean, you don't want to use harsh chemicals that will leave behind irritating residues.
Related: The Best Plastic-Free and Eco-Friendly Baby Products Every New Parent Needs
I know firsthand the struggle of deciphering ingredient labels and navigating the sea of brands claiming to be "baby-friendly." But fear not, because I've done the research, the testing, and the laundry, all to bring you a list of products that have won both my heart and my trust.
From plant-based formulas to zero waste packaging, these laundry detergents have something for everyone who wants to give their baby the best start in a cleaner, greener world. So, get ready to revamp your laundry routine and make a positive impact — one tiny sock at a time.
Why Is it Important to Choose Baby-Safe Laundry Detergent?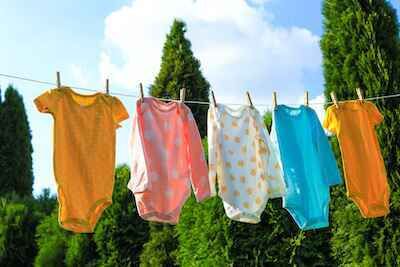 When my son was just a few months old, he developed eczema. We quickly discovered that everything that touched his sensitive skin — from lotion and body wash to the laundry detergent we used to wash his clothes — could cause an itchy flare-up.
Unfortunately, there's a lot of greenwashing when it comes to baby laundry detergent brands. While popular brands claim they're safe and gentle, they actually contain a lot of harsh chemicals that can cause skin irritation, an allergic reaction, and more.
For example, the Environmental Working Group (EWG) gives Dreft Stage 1: Newborn Detergent an "F" grade because of concerns about asthma and respiratory issues, skin allergies and irritation, developmental and reproductive toxicity, and environmental pollutants.
Whether it's the clothes we wear or the sheets we sleep on, our skin is always touching something washed in laundry detergent. If the laundry detergent is leaving behind toxic chemicals on our clothes, our skin is absorbing those chemicals.
Other Toxic Chemicals to Avoid
Whether you're shopping for eco-friendly laundry detergent for your baby or sustainable laundry detergent for the whole family, you always need to watch out for these toxic ingredients:
1,4-Dioxane– While you won't see 1,4-dioxane listed directly on the label, this probable human carcinogen is a bi-product left behind in ethoxylated ingredients, such as anything that ends in -eth, -oxynol, and PEGs.
Phthalates– Like 1,4-dioxane, phthalates are often present in laundry detergent but not shown on the ingredient list. They're typically associated with fragrances and have been shown to cause hormone disruption.
Phosphates– Phosphates are common additives in all types of detergents, including dishwasher detergent. However, they can cause health problems and major environmental pollution.
Sodium lauryl sulfate (SLS) and sodium laureth sulfate (SLES)– Used to pull dirt off clothing and give laundry detergent its foamy, bubbling nature. However, they're known to cause skin irritation, allergic reactions, damage our clothing, and contribute to the formation of microplastics.
Optical Brighteners– Optical brighteners are used to make clothes whiter and brighter. However, they biodegrade very slowly, they're toxic to aquatic life, they're a potential skin irritant, and they're a potential estrogen disruptor with reproductive toxicity concerns.
Bleach– Bleach is caustic, corrosive, and its manufacturing process creates dioxins, which are some of the most toxic and harmful chemicals on this planet.
Fragrance– A catch-all term that manufacturers can use to hide hundreds of other potentially harmful ingredients. Some of these ingredients may cause allergic reactions or be toxic to the brain and nervous and respiratory systems.
Choosing the Best Baby Laundry Detergent
Now that you know why it's important to use the best non-toxic laundry detergent and which ingredients you should always avoid, you're probably ready to ditch your regular detergent and pick up something made with natural ingredients.
Fortunately, whether you prefer using laundry pods, liquid laundry detergent, or laundry powder, you can find exactly what you need to get those baby clothes perfectly clean while protecting your baby's skin when you choose one of these top laundry products.
Best of all, not only are these detergents perfect for babies, but they're also ideal for anyone who has sensitive skin or wants to avoid fragrances in their laundry detergents!
1. Dropps
If you like the convenience of detergent pods and you're looking for an unscented variety that's safe for your baby's sensitive skin, Dropps is your best choice. Their Sensitive Skin & Baby Detergent is dermatologist tested and clinically proven to be gentle on skin.
These laundry detergent pods are free of fragrances, dyes, phosphates, phthalates, parabens, enzymes, and optical brighteners. They're also never tested on animals.
Instead, the detergent uses plant-based ingredients to clean all types of fabrics, including natural fibers, wool, silk, and cashmere. They're also incredibly easy to use.
Simply drop a pod into the drum of your washing machine, add your clothes, and select your wash cycle. The powerful little laundry detergent pod will take care of the rest. You can use the pods in all types of washing machines, including high-efficiency (HE) models.
In addition to unscented laundry detergent, you can also pick up unscented fabric softener and unscented oxi booster, which is a chlorine-free, color-safe bleach alternative.
Related: Get Your Laundry Naturally Soft With the Best Non-Toxic Fabric Softener
Plus, to help you reduce waste as much as possible, the pods arrive to you in recyclable cardboard packaging. Dropps also partners with Clearloop to provide 100% carbon-neutral shipping.
2. Tru Earth
Like pods, laundry detergent strips are another clean, neat, hassle-free way to get your laundry done. (And this is a must for sleep-deprived parents trying to take care of a new baby!)
Tru Earth makes some of the best eco-friendly laundry detergent strips for all of your washing needs, including the best baby detergent strips. This fragrance-free option comes in pre-measured strips of liquidless laundry detergent that you just toss in the wash and go.
While the strips come packed with ultra-concentrated, hypoallergenic cleaning power, they're still gentle enough for your baby's delicate skin. The biodegradable, hypoallergenic formula is free of harsh chemicals, parabens, phosphates, dyes, chlorine bleach, enzymes, and artificial brighteners.
Related: The Best Safe and Non-Toxic Wooden Toy for Babies
They're tested by independent laboratories and are certified free of 1,4-dioxane. These vegan strips are also never tested on animals.
They're specially formulated to clean all of your baby's clothes, including onesies, cloth diapers, reusable wipes, towels, and blankets. You can also use them in standard washers, HE washers, and for hand washing.
There's no measuring required and no mess. Simply tear off a strip, place it in your washer, add your clothes, and choose your wash cycle. The strips will completely dissolve in hot or cold water.
To help keep wasteful single-use plastic cleaning bottles out of landfills and oceans, these laundry strips come in compostable packaging. In addition to eliminating plastic, this small size makes the detergent easier to store and gives it a dramatically smaller supply chain carbon footprint.
3. Truly Free
Did you know almost all traditional household cleaners contain hidden harmful ingredients that can create health risks for your entire family? Truly Free founder Stephen Ezell learned this the hard way when his new baby had a terrible rash that wouldn't go away.
He eventually discovered it was caused by their laundry detergent. That's when he decided to take matters into his own hands and create a plant-based soap company that can help you clean your home without harsh chemicals that can cause harm to human health.
Related: Protect Your Baby With the Best Plastic-Free Baby Bottles
This detergent uses a plant-based formula to deep clean all types of stains off clothing, bedding, towels, and more. However, this eco-friendly and cruelty-free formula doesn't contain any SLS, chlorine, glycol, phosphates, formaldehyde, optical brighteners, or 1,4-dioxane.
4. Dr. Bronner's
Families have been turning to Dr. Bronner's Pure Castile soap for generations because it's safe, clean, and effective. Their unscented baby Castile soap makes an outstanding natural laundry detergent.
This Castile soap is made with certified Fair Trade vegetable oil, which means it's vegan, cruelty-free, and biodegradable. You won't find any synthetic preservatives, detergents, foaming agents, or synthetic fragrances in this soap. Instead, the company only uses the purest organic ingredients.
They also work with farmers and suppliers to implement regenerative organic farming practices that enrich soil, increase biodiversity, and help combat climate change.
Related: 11 Safe and Non-Toxic Ways to Naturally Clean Baby Toys
It's important to note that this Castile soap is ultra-concentrated. A little bit goes a long way and you definitely need to dilute.
For laundry, 1/3 cup to 1/2 cup of soap is recommended for a large load of laundry in a regular washer. If you're using an HE washing machine, use half of these amounts.
You can also use Castile soap for more than just laundry detergent. This versatile soap has a variety of genius uses around the house, which can help you simplify your cabinets and get a safe and eco-friendly clean in every room.
5. Grab Green
Grad Green makes several eco-friendly laundry detergents specifically formulated for different stages of your baby's life.
These Grab Green Newborn Baby Laundry Detergent Pods are designed for ages 0 to 4 months. They're formulated to gently yet thoroughly remove formula, breast milk, spit-up, and diaper blowouts.
Related: The Best Eco-Friendly Diapers Made With Gentle, Plant-Based Ingredients
Once your baby gets a little older, you can make the switch to these Baby Laundry Detergent Pods. They're designed for babies 5 months and older and formulated to remove cereal starches, fruit and vegetable puree, dirt, and grass.
No matter which detergent you use, you can rest easy knowing they're both made with naturally derived mineral and plant-based ingredients that can handle tough stains without irritating skin. They also don't contain any sulfates, parabens, phthalates, or optical brighteners.
These pods will fully dissolve in any water temperature and work in all types of washing machines, including HE washers. They're also cruelty-free and never tested on animals.
These detergents are available unscented or in soothing scents like Calming Chamomile or Dreamy Rosewood. However, instead of using artificial fragrances to create these scents, Grad Green uses only natural essential oils.
6. Meliora
Meliora makes an outstanding variety of some of the best eco-friendly cleaning products, including this Eco Laundry Powder. This detergent has a concentrated formula made with all-natural ingredients like baking soda, washing soda, and skin-softening coconut oil.
While the gentle formula easily gets rid of stains and odors to leave your clothes soft and clean, it doesn't contain any sulfates, parabens, phthalates, additives, SLS, synthetic fragrances, or dyes. The cruelty-free detergent is also made without animal byproducts.
It's a MADE SAFE-certified product that has been third-party tested to ensure it contains only non-toxic, high-quality ingredients that are safe for the environment and your skin.
Simply add this laundry powder directly to your washing machine and then put in your clothes. You can use 1 scoop for standard washers or a 1/2 scoop for HE washers.
In addition to an unscented variety, you can also get this laundry powder with soft and soothing fragrances like Lavender, Lemon, and Lemon, Lavender & Clove.
To get started with Meliora laundry detergent, purchase the reusable canister with a scoop. After that, you can simply buy the refill bag. To help you eliminate as much plastic waste from your life as possible, the canister is made from recyclable stainless steel, and the refill bags are made with recyclable or compostable paper.
Additionally, Meliora is a B Corp and a proud member of 1% for the Planet. It donates part of its profits to environmental groups working to make our planet a healthier, safer, and better place.
You can find Meliora cleaning products at EarthHero, which is one of the best zero waste online stores for all of your sustainable essentials. If you decide to order some, you can use the code EARTHFRIENDLY to enjoy 10% off your order!
7. Molly's Suds
From their activewear laundry powder with stain-fighting enzymes to really get stains and odors out of your sustainable activewear and workout gear to outstanding wool dryer balls that can save you time and money when drying your clothes, Molly's Suds offers a great selection of supplies that can make your laundry room more eco-friendly. This includes their Baby Laundry Detergent.
This laundry detergent is gentle on newborn and sensitive skin, yet tough on stains. It's hypoallergenic and doesn't contain any dyes or fragrances.
Instead, it's made with Earth-derived ingredients that are free of any known carcinogen. These ingredients include magnesium sulfate, sea salt, sodium bicarbonate, and sodium carbonate. It also contains naturally occurring enzymes that target formula, spit-up, and poop stains.
Related: The Best Sustainable Baby Wipes to Help Reduce Waste
This laundry detergent is safe to use on clothes, towels, sheets, and even cloth diapers. You can use it in standard, commercial, or HE washers. For best results, use with warm or hot water.
It's available either fragrance-free or with the Sweet Baby Shea scent. The powder is highly concentrated and one bag can typically handle around 120 loads of laundry.
8. Ecoegg
The award-winning Ecoegg Laundry Egg is an environmentally friendly and hypoallergenic alternative to conventional laundry detergents. Instead of using liquid or powder detergents, you simply toss the Laundry Egg into your washing machine and let it go to work.
The Laundry Egg holds powerful natural cleaning pellets that activate when they're in water. They're scientifically proven to gently lift away dirt and grime without fading colors or damaging the fibers of your clothing.
Related: Affordable, Ethical, and Sustainable Maternity Clothes You'll Love to Wear
The white mineral pellets will eventually dissolve and need to be replaced after about 70 washes, which makes this an incredibly affordable option for getting your laundry done. It's also a sustainable option since you don't throw away the Laundry Egg when it's empty.
Instead, you just purchase these refill pellets. Then all you have to do is add the refill pellets to your egg.
Each refill box comes with 3 bags of white pellets. That's enough pellets for about 210 washes, or enough to last the average family about 1 year!
While Ecoegg does offer lightly scented cleaning pellets, the fragrance-free version is best for babies and anyone else with sensitive skin. It's dermatologically tested and hypoallergenic. It has also been developed with Allergy UK and endorsed by the National Eczema Society.
To use the Ecoegg, simply place it on top of your clothes in the drum of your machine and wash as normal. You can use Ecoegg in top or front load machines. It's also safe for whites, colored clothes, and all types of fabrics.
9. HealthyBaby
HealthyBaby has an EWG-verified and MADE SAFE-certified laundry detergent concentrate that's made with a custom blend of plant, mineral, and water-based cleansers. While it's effective at cleaning messes and stains, it's still gentle on your baby's skin.
This dermatologist and pediatrician-tested detergent is also suitable for anyone with sensitive skin. It doesn't contain any parabens, GMOs, gluten, sulfates, artificial fragrances, or PEGs.
Plus, it couldn't be easier to use. Simply attach a pump to the laundry concentrate bottle. Then add 2-3 pumps of detergent directly into the washing machine.
You can use this detergent in all types of machines, including HE washers.
10. Puracy
This Free & Clear laundry detergent from Puracy is safe for babies and anyone else with sensitive skin. With this detergent, you can get cleaner, fresher clothes without nasty chemicals.
The plant-powered formula is safe to use on all fabrics. It doesn't contain any sulfates, bleach, brighteners, or other harsh chemicals.
To get started with Puracy laundry detergent, first purchase the starter bottle. When that bottle is close to being empty, you can then get the refill packs.
One refill pack has the same amount of detergent as 3 bottles. However, you save at least 20% per ounce and have 90% less plastic packaging, which is a win for your wallet and the planet!
For a standard washing machine, you'll use 2 to 4 pumps per load. HE machines use 1 to 2 pumps for each load.
11. Attitude
Attitude Unscented Baby Laundry Detergent is specially formulated for your baby's sensitive skin. It features only plant- and mineral-based ingredients from natural sources, such as green tea extract.
This detergent doesn't contain any phosphates, dyes, phthalates, enzymes, or formaldehyde.
The natural ingredients effectively clean clothes, onesies, blankets, bibs, cloth diapers, rompers, and more. The ingredients also help ensure this ECOLOGO-certified and PETA-approved vegan and cruelty-free baby laundry soap is hypoallergenic.
It's formulated to be used with cold water to help you save money on your energy bill when you're doing laundry. Additionally, it comes in two convenient sizes so you can get the right amount of detergent you need based on how often you wash clothes.
Choosing the Best Laundry Detergent for Your Baby
When it comes to getting your baby's clothes clean, you don't have to choose between something that's effective and something that's safe for their health and the health of the planet. Instead, you can use one of these best non-toxic laundry detergents for babies.
These detergents are made with natural ingredients that safeguard your baby from unnecessary irritants and dangerous chemicals that can leach into their body.
Remember, every small decision you make adds up to a larger impact. By opting for non-toxic laundry detergents, you're not only safeguarding your baby from unnecessary irritants but also contributing to cleaner waterways, reduced plastic waste, and a healthier Earth for generations to come.
As you embark on this eco-friendly laundry adventure, keep in mind that your choices matter. You're showing your baby the importance of conscious living — a lesson that will stay with them as they grow.
Together, we can create a world where our babies can grow up surrounded by clean air, vibrant ecosystems, and a deep appreciation for the wonders of nature.
More Helpful Tips for Eco-Friendly Living
Did you enjoy learning more about the best non-toxic laundry detergent for babies? Are you looking for other tips that can help you live a more sustainable life? Then please be sure to take a look at some of our other popular posts: