Outstanding Ethical and Eco-Friendly Underwear for the Entire Family
You do your best to pick out ethical clothing made with eco-friendly materials, but have you given any thought to your underwear? Yep, that's right. Eco-friendly underwear is just as important for your skin as it is for the planet's health.
We've all been there, rummaging through the underwear drawer for that perfect pair of skivvies. But have you ever wondered about the environmental impact of your favorite go-to undies? After all, the fashion industry hasn't always had the best track record when it comes to sustainability.
From organic cotton briefs that are gentle on the earth and your skin and recycled polyester panties that give plastic waste a new lease on life to classic neutral hues and funky patterns that add a splash of personality to your wardrobe, we're exploring the entire spectrum of sustainable underwear brands. We'll also take a look at why it's so important to make the switch.
Eco-friendly underwear is your everyday secret weapon for feeling comfy, confident, and guilt-free. So let's take a look at the best options for the whole family.
1. Pact
There's a reason why Pact calls itself Earth's Favorite Clothing Company. That's because in addition to offering some of the most affordable eco-friendly clothes, this sustainable clothing brand also has a great selection of underwear for women and men.
Women can find everything from thongs and briefs to boy shorts and bikini cuts. If you're looking for sustainable bras to make your undergarment collection complete, Pact has you covered there as well.
The company is also an excellent option if you're looking for comfortable and sustainable maternity underwear to go along with your eco-friendly maternity clothes.
Men can find comfy briefs, boxers, and boxer briefs in solid colors or patterns. Features like the tagless back and smooth, flat, no-roll waistband help make all of these options as comfortable as possible.
Related: Dress Sustainably With the Best Eco-Friendly Clothing Brands for Men
Plus, you can rest assured no matter which style you get, you're choosing sustainable underwear from a brand that goes to great lengths to make sure its entire supply chain is ethical and eco-friendly. This includes using Global Organic Textile Standard (GOTS) certified organic cotton and Fair Trade certified factories that employ water and energy-efficient production methods.
Pact also offers inclusive sizing for all body types. Women's organic underwear sizes run from XS to XXL and men's from S to XXL.
2. Girlfriend Collective
Whether you prefer briefs or thongs, you can find the style you love in an amazingly comfortable fit when you shop at Girlfriend Collective. Their underwear is made with 80% recycled plastic water bottles (RPET) and 20% spandex.
This creates a lightweight, breathable fabric that's so soft on your skin, you might actually forget you're wearing underwear! Plus, to keep you as comfortable as possible, these underwear also feature a moisture-wicking COOLMAX liner at the gusset.
Girlfriend Collective underwear is designed for a wide range of body types. That's why they offer inclusive sizing from XXS to 6XL.
Since Girlfriend Collective is also one of the top sustainable fashion brands for activewear and other everyday pieces, their underwear feature a raw cut waist and leg openings for minimal lines under clothing.
Plus, to help divert as much waste from landfills as possible, their clothing (including old undies!) is recyclable through their ReGirlfriend program. Once your pieces have reached the end of their useful life, you can send them back to the company to be recycled into new items. You also get a $15 store credit for helping to close the loop!
3. Organic Basics
As their name suggests, Organic Basics is another excellent option for organic cotton underwear for both women and men. The company has an incredible variety of different styles made from smooth and stretchy organic cotton that feels luxuriously soft against your skin.
They use organic cotton that's grown without harmful chemicals because it helps sustain the land and protects the farmers. This type of cotton is grown using crop rotations and natural ways of controlling pesticides, which makes it much lower-impact than regular cotton.
Additionally, they give you a breakdown of the total carbon footprint of each piece so you can get a better understanding of how your underwear impacts the planet.
Related: Lower Your Carbon Footprint With the Best Carbon Offset Programs
Organic Basics is a certified B Corp that only uses trusted, certified factory partners to make their products. These factories ensure that their workplace is free of child labor and forced labor, provide a safe working space for their employees, and pay a living wage.
Their underwear collection pairs perfectly with the other everyday essentials they offer, including a great selection of sustainable activewear, travel outfits, dresses, and sweatshirts.
4. Mightly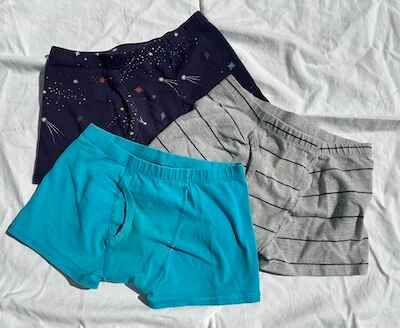 If you're looking for one of the best eco-friendly underwear brands for kids, you'll love Mightly. That's because in addition to offering some of the top affordable and durable eco-friendly clothes for kids, Mightly also has a great selection of sustainable and comfortable undergarments for children.
The styles include briefs, boxer briefs, and biker shorts. The underwear is made with GOTS-certified organic cotton with a touch of stretch to help kids move with ease. They also feature covered elastic at the waistband for a gentle yet snug fit that won't irritate delicate skin.
The farmers don't use toxic chemicals to grow their cotton. Additionally, the methods they utilize regenerate the soil, use 71% less water, and 62% less energy than non-organic cotton farming.
After the cotton is harvested, it's sent to Fair Trade Certified factories that must adhere to rigorous social and environmental standards that protect the health and safety of workers and the planet. This includes safe working conditions, no child or forced labor, fair wages, no harmful chemicals, guaranteed maternity leave, and more.
Additionally, to help cut down on packaging waste, Mightly has partnered with RePack to give you the option of receiving your order in a reusable shipping mailer. When you choose this option, your order will arrive in a durable bag that comes with a prepaid shipping label so you can return it to RePack for cleaning and reuse.
5. Tentree
Tentree has an outstanding collection of stylish and comfortable eco-friendly clothes for men, women, and children. This includes a variety of quality underwear made with sustainable materials.
Options for women include bikini briefs and thongs crafted from sustainable materials like TENCEL and organic cotton. Thanks to their high-quality construction, these underwear provide long-lasting comfort and will maintain their shape and support over time.
Related: Make Your Ethical Wardrobe Complete With the Best Eco-Friendly Jeans
Men can find incredibly soft boxer briefs in several different colors. Like the women's underwear, they're made with organic cotton and TENCEL so they're as good for your body as they are for the environment.
Plus, like anything else from Tentree, your underwear purchase helps the company plant 10 trees on your behalf to reforest the planet and fight global warming.
Tentree also believes that sustainable clothing should come in sustainable packaging. That's why they're committed to using 100% recycled paper for product packaging and 100% recyclable shipping mailers that are also biodegradable.
6. Thunderpants
Are you looking for eco-friendly underwear that won't bunch up on you throughout the day? Then check out Thunderpants! These might just be the world's most comfortable sustainable underwear.
All of the styles available from Thunderpants are comfortable enough for all-day wear. They also feature waist and leg bands that are made using the same fabric as the body, which eliminates the need for tight, yucky elastic.
Thunderpants makes each pair of underwear using Fair Trade and GOTS-certified organic cotton. This cotton isn't grown or manufactured with synthetic chemicals, fertilizers, pesticides, or azo dyes, so it doesn't have any heavy metals, formaldehyde, or chlorine.
The underwear is then cut and sewn in minimal-waste, women-owned factories in the United States. Thunderpants also works with women illustrators to make their unique, eye-catching prints and designs.
7. Q for Quinn
Q for Quinn was founded by Melita when she couldn't find a pair of socks that were gentle enough for her son, who suffered from eczema. She soon learned that 90% of baby and kid's socks were found to have harsh chemicals containing BPA and parabens.
Related: The Most Essential Plastic-Free Baby Products Everyone Should Have
That's why today Q for Quinn not only offers some of the best eco-friendly socks, but also sustainable and comfortable underwear for both kids and adults.
Styles for kids include briefs, hipsters, and boxer briefs. The size range goes from 18M all the up to 10-12Y, so everyone from toddlers to tweens can find something they like.
The women's styles include bikini and classic brief. The inclusive sizing ranges from XS to 3XL.
The flat seams and incredibly soft fabric make the underwear lightweight, breathable, and comfortable. Additionally, Q for Quinn only uses azo-free, non-toxic, environmentally safe dyes that have no risk of degrading and releasing harmful compounds.
Every pair of cotton underwear is certified by GOTS. Plus, their facilities and materials are regularly tested and proven to be free of over 100 harmful substances and toxic chemicals.
Q for Quinn is also working toward making this world a better place by donating one school meal for every item sold.
8. Cariloha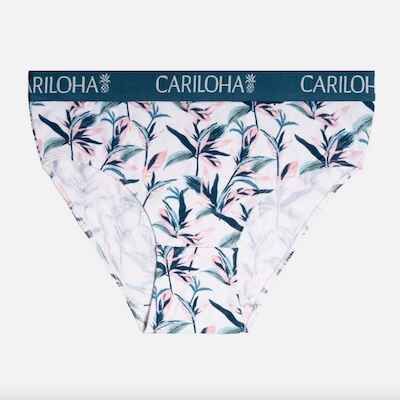 Cariloha is one of the top sustainable brands to find clothing and home goods made of bamboo viscose. Not only does this material provide amazingly luxurious comfort for you, but it also helps save the environment.
If you're shopping for underwear, you'll find a variety of outstanding options for men and women.
The options for women include high-rise briefs, boyshort briefs, and midrise thongs. Men can find lightweight and breathable boxer briefs for a flexible fit.
All of these products are made with super-soft bamboo. Not only does bamboo fabric feel amazing against your skin, but it also has natural odor and allergy-resistant properties to help you stay clean and fresh all day long.
In addition to offering classic solid colors, you can also find fun prints and bright patterns that let you have a little lighthearted pleasure with your underwear.
Plus, when you shop with Cariloha, you know you're getting carbon neutral underwear. That's because the company uses wind power, solar power, and reforestation projects to offset their product's carbon emissions.
9. Knickey
Knickey is a women-owned underwear brand that's committed to offering affordable, high-quality, ethical, and truly eco-friendly intimates. Whether you're shopping for a high-rise brief, mid-rise brief, low-rise bikini, or low-rise thong, Knickey has you covered.
Their underwear is seriously soft, super comfortable, and made from 95% GOTS-certified organic cotton. This means that unlike traditional underwear, you won't have any pesticides or petroleum-based fabrics touching your skin.
The fabric doesn't contain any chlorine, bleach, formaldehyde, or harsh chemicals. Plus, it's lightweight and breathable, which discourages chafing, discomfort, and the growth of bacteria.
To help you reduce plastic waste as much as possible, Knickey underwear ships to you in eco-friendly packaging that's plastic-free.
While Knickey underwear is designed to last a long time, it will eventually wear out and reach the end of its useful life. When it does, the company offers a recycling program.
When you take advantage of this program and send back your no-longer-usable undies, they can keep clothing out of landfills by transforming them into useful secondary textiles, such as insulation.
You can find Knickey underwear at EarthHero, which is one of the best zero waste online stores for all of your sustainable essentials. If you decide to purchase some underwear, you can use the code EARTHFRIENDLY to take 10% off your order!
10. Maggie's Organics
Maggie's Organics is a sustainable fashion brand dedicated to making clothing for women and men using organic materials and ethical production. All of their products are made using organically grown cotton and ethically sourced wool.
They work directly with their farmers to guarantee stable prices and high-quality materials. Maggie's Organics also creates alternate income sources for their farming communities to support them through the challenges they face because of climate change.
Their essential bikini underwear is made from 90% organic cotton. This silky-soft fabric has a stretchy, flexible fit. It features a no-roll waistband, full bottom coverage, and flatlock seams with generous leg openings for all-day comfort.
You can also get the essential boy short underwear, which has all of the same great features of the bikini underwear plus back-shaping panels for support and definition.
For men, the essential boxer briefs are made with 95% GOTS-certified organic cotton. They have a snug, no-feel fit with flat-lock seams, a no-roll waistband, and a double-layer front panel.
11. Boody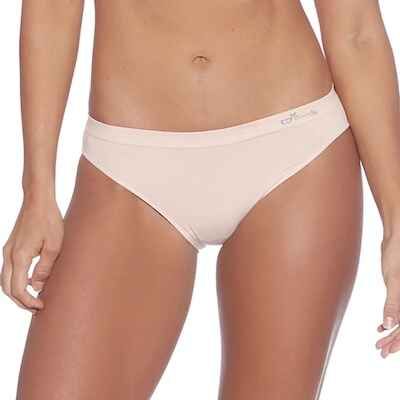 You can take your intimates to the next level when you wear Boody. Made from organic bamboo yarn, this underwear feels luxuriously soft against your skin. Plus, they have styles for both women and men.
Women can choose from classic bikini cut, boyleg, or thong styles. All styles are lightweight and breathable with a stretchy fit. Plus, they feature seam-free sides and a flat-ribbed waistband for all-day comfort that won't roll or bunch.
Men have the option of traditional length boxer briefs or long boxer briefs for a bit of added coverage and support on their legs.
Like every piece of clothing from Boody, you can rest assured any underwear you get is vegan, cruelty-free, phthalate-free, and made using fair and safe labor.
Choosing the Best Eco-Friendly Underwear
Your underwear drawer is now primed and ready to embrace a greener, cleaner future. By opting for the best eco-friendly underwear, you're upgrading your daily comfort game and making a powerful choice to support brands that prioritize the planet and its people.
Remember, every little decision adds up to a big impact. Your commitment to rocking those earth-friendly undies is a step toward a more conscious wardrobe and lifestyle.
As you slip into your new underwear, take a moment to pat yourself on the back. You've taken another stride on this exciting journey toward a more eco-friendly you.
More Helpful Tips on Eco-Friendly Living
Did you enjoy learning more about the best eco-friendly underwear? Are you interested in discovering additional tips that can help you live a sustainable life? Then please be sure to take a look at some of our other popular posts: