Best Clean-Burning Non-Toxic Candles
Candles can make your home smell great and add plenty of beautiful charm. But they can also hide dangerous toxins that you don't want to breathe in. If you're trying to create a safer and more eco-friendly home, make sure you add a few of these best non-toxic candles.
Are Candles Toxic?
You might be wondering, are candles bad for you? After all, things that look pretty and smell great can't be all bad, right? Unfortunately, just like fabric softener is one of the most toxic items in your home, candles hide some dirty secrets behind their pretty colors and pleasing scents.
Related: How to Naturally Soften Clothes Without Using Fabric Softener
Most candles are made from paraffin wax, which is created when crude oil is refined into gasoline. The harm caused to our environment from oil drilling is bad enough, but then manufacturers go a step further when processing paraffin wax.
After paraffin wax is scraped out of oil refineries, it's typically bleached with a chemical called dioxin (which is a highly toxic chemical compound that's harmful to our health) and texturized with acrolyn (which is a known carcinogen). The wax is then mixed with animal-based stearic acid (which is a terrible byproduct of meatpacking slaughterhouses) to make it harden for candles.
Why Paraffin Wax Is Bad for You
If you've ever noticed your eyes start to feel itchy after you light a candle, you're experiencing one of the short-term side effects of paraffin wax. Unfortunately, sore and itchy eyes aren't the only problems burning paraffin can cause.
Paraffin wax can also aggravate your lungs and irritate your skin. In fact, a study done at South Carolina State University found that burning paraffin wax releases dangerous chemicals into the air, including chemicals that can exacerbate asthma and cause allergy-like reactions. Long-term exposure to these chemicals could cause poor indoor air quality and be hazardous to your health.
Related: The Best Houseplants That Naturally Purify the Air
On top of all of this, if you burn scented candles, you also have to worry about releasing volatile organic compounds (VOCs) into the air. VOCs are nasty chemicals that can be found in all sorts of common household products, such as air fresheners, cleaning products, cosmetics, paints, carpets, composite wood products, and mattresses.
Related: The Best Eco-Friendly Mattress for a Healthier Night's Sleep
Exposure to VOCs can range from short-term issues like headaches, dizziness, and throat irritation to long-term problems that include kidney and liver damage, central nervous system damage, and cancer.
The Best Non-Toxic Candles
Now that you know why candles are toxic, you might be wondering if there are any types of candles you can use. The good news is you don't have to give up your love for candles to have a more eco-friendly home. Instead, you simply need to choose natural candles.
Natural candles are made from plant-based waxes that are more sustainable than paraffin wax. They also typically use essential oils for fragrance.
When you're ready to make the switch to a more eco-friendly candle, check out these best non-toxic candles!
1. Siblings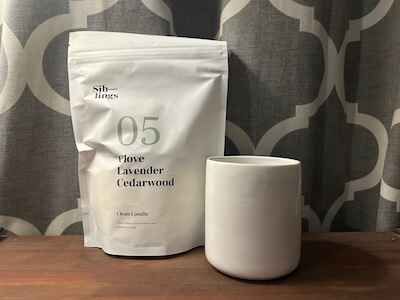 Thanks to Siblings candles, you can enjoy amazing scents in your home without worrying about toxic fumes. That's because Siblings uses a blend of coconut, soy, and apricot oil for a clean-burning candle that's safer for you and kinder on the environment.
Plus, instead of scenting the candles with toxic chemicals that can pollute the air you breathe, they use non-toxic, cruelty free fragrances and essential oils. I have the Clove, Lavender, and Cedarwood candle, and it produces an amazingly warm and soothing scent that really helps me relax and unwind.
Best of all, not only are these candles better for the environment because of their sustainable ingredients, but they're also designed to reduce waste.
Most conventional candles come in containers and jars that never get reused or recycled. Instead, they're simply thrown away. Since it can take thousands of years for these containers to break down, they only end up contributing to our overflowing waste crisis.
However, when you purchase a Siblings candle, you're getting everything you need in a 100% compostable bag that's made using 99% plant-based materials. You can use pretty much any vessel you already have to hold your candle, as long as it can withstand heat and won't crack, leak, or catch fire.
But don't worry — Siblings also has a great selection of Forever Vessels if you don't have anything at home you can use. These gorgeous ceramic vessels are made by hand and feature a timeless, classic design that can fit in any home.
To make your candle, simply pop the open bag in the microwave or place it in a pot of boiling water on the stove top. Once the wax has melted, carefully pour it into your container and let it cool. Finally, you can trim the wick and enjoy your candle.
When your candle burns down to the bottom and it's time for a new one, Siblings has all the extra supplies you need. Simply select the next scent you want to enjoy and repeat the process again for another waste-free candle!
You can rest assured that Siblings has been a Carbon Neutral company since its founding year and fully offsets its carbon footprint every year.
2. Bluecorn Beeswax
As the name suggests, Bluecorn Beeswax makes non-toxic candles using pure beeswax. This small, carbon-neutral business hand makes its candles in Colorado using sustainably sourced beeswax from U.S. beekeepers.
Related: How to Make DIY Beeswax Food Wrap That Actually Sticks
They never use zinc or lead-core wicks. Instead, their wicks are always cotton or a blend of paper and cotton. Since these candles are made from beeswax, they tend to have a light honey scent. However, if you prefer a different fragrance, the company also sells candles scented with 100% pure essential oils.
One great thing about Bluecorn Beeswax is that they offer an amazing variety of candles. You can find everything from tea lights and votives to pillars and tapers. One of my personal favorites are these candles in beautiful recycled glass jars.
Related: How to Make Non-Toxic DIY Air Freshener
3. EcoRoots
Not only are these cruelty-free candles from EcoRoots perfect for times when you want to create a relaxing and cozy atmosphere, but they also make a wonderful gift.
Related: 35+ Awesome Stocking Stuffers for All Ages
These environmentally friendly and clean-burning candles don't contain any animal ingredients, synthetic ingredients, chemicals, petroleum, paraffin, toxins, phthalates, fillers, or mineral oils. Instead, they're made using 100% American-grown soy wax, organic cotton braided wicks, and premium grade oils.
They're hand-poured into recycled glass containers to create a beautiful candle. Once you finish burning the candle, you can then reuse, recycle, or upcycle the glass container.
Related: The Genius Way to Easily Remove Sticker Residue From Glass
You'll find a variety of delicious scents, such as coffee latte, oakmoss and amber, evergreen citrus, and rose blossom. Best of all, these non-toxic candles come from one of the best zero waste online stores. This means you get to enjoy 100% plastic-free shipping with every order.
4. P.F. Candle Company
You can bring some warm light and fabulous smells into your home with these 100% non-toxic and vegan candles from P.F. Candle Company. These eco-friendly candles are handmade and produced in California from domestically-grown ingredients following fair labor standards.
The non-toxic soy wax is hand-poured into glass amber jars that have a brass lid and kraft paper label. This clean and stylish appearance makes the candles perfect for desks, countertops, nightstands, dressers, and more.
These candles are also available in a variety of amazing scents, such as sweet grapefruit, spruce, sandalwood and rose, and cedar and sagebrush.
You can purchase these P.F. Candle Company scents from EarthHero. If you decide to shop with EarthHero, be sure to use the code EARTHFRIENDLY to get 10% off your order!
Related: 10 Natural Ways to Quickly Fall Asleep Without Medication
5. Pure Plant Home
You might already be familiar with Thrive Market because you can shop there for affordable organic food and have it delivered right to your door. But did you also know you can find a variety of other non-toxic home essentials at the store?
One outstanding option are these natural candles from Pure Plant Home. These non-toxic candles have a lot of great things going for them.
The vegan candles are hand-poured using sustainably harvested coconut wax and real essential oils. They also come in great scents like lavender, ginger and vanilla, and Mandarin orange and lemongrass.
Plus, unlike other non-toxic candles that can sometimes get a little pricey, these candles have an amazingly affordable price tag!
Related: How to Go Zero Waste on a Budget
6. Brooklyn Candle Studio
Brooklyn Candle Studio makes their hand-poured candles in Brooklyn, New York, using 100% soy wax from American-grown soy beans for a clean, eco-friendly burn. The petroleum-free, cruelty-free, vegan, and phthalate-free candles are also made with lead-free cotton wicks and premium essential oils.
Related: Easy Ways to Create an Eco-Friendly Sanctuary in Your Bedroom
The candle company offers several different collections, so you can easily find one to suit your needs.
The Minimalist Collection is inspired by the natural world around us. The candles come in elegant glass jars with a brushed metal gold lid and will burn for up to 50 hours. Some popular scents include Rose Botanica and Love Potion.
The Escapist Collection features lovely scents from around the world. These double-wicked candles come in glass tumblers and burn for around 70 hours. Consider something like the fresh ocean scents of Maui or the woodsy fragrance of Kyoto.
Finally, there's the Noir Collection. Natural botanical scents are the main focus of these modern candles. They're hand-poured in black matte glass jars and glow gracefully for up to 70 hours. You'll fall in love with the sultry scents of Santal and the citrusy aroma of Hinoki.
Related: Genius Eco-Friendly Alternatives for Common Household Products
7. Sanari Candle
Sanari Candle makes organic candles using plant-based, natural ingredients. They're hand-poured in small batches into reusable or recyclable glass containers using organic coconut wax and non-GMO soy wax. They're also made with 100% unbleached cotton wicks and certified organic essential oils.
They contain absolutely no lead, petroleum, animal by-products, synthetic fragrances, chemical dyes, or colorants.
When you purchase candles from Sanari Candle, you're not only getting a vegan and cruelty-free candle, but you're also helping out other people. That's because the company donates a portion from every purchase to support breast cancer research.
You'll find plenty of intoxicating scents in this candle collection. One popular scent is Biscotti, which contains vanilla, nutmeg, and cinnamon. Another excellent option is Aria, which has tangerine, ylang ylang, and lavender.
Related: Simple Swaps You Can Make for a Zero Waste Bathroom
8. Rewined
This beautiful natural soy candle from Rewined makes a nice treat for yourself or a great gift for wine lovers. The candle is handcrafted in Charleston, South Carolina, using all-natural soy wax that's poured into the bottom half of a repurposed wine bottle.
It's then infused with a pleasing champagne aroma for a candle that can help you unwind and relax. When you've finished the candle, you can easily recycle the glass container. It's also pretty enough to reuse around the house.
In addition to the champagne-scented candle, you can also get a rosé candle that features an amazing scent of rich red fruit mixed with a elegant floral undertone.
Related: How to Have a More Eco-Friendly Valentine's Day
8 Incredible Non-Toxic Candles
You don't have to give up enjoying the warm beauty of candles just to avoid bringing toxins into your home. Instead, you can choose one of these best non-toxic candles. Then you can enjoy a clean-burning and eco-friendly candle whenever you want!
More Eco-Friendly Living Tips
Did you enjoy learning more about the best non-toxic candles? Are you interested in discovering even more simple ways you can make your home more eco-friendly? Then please be sure to check out some of our other popular posts: