A Guide to the Best Non-Toxic Air Fresheners
You want your home to smell nice, but you don't want to use toxic air fresheners to do it. Fortunately, you have a better choice. You can make the switch to one of these best non-toxic air fresheners!
Learn more about the hidden dangers lurking in traditional air fresheners, and then discover some of the top non-toxic air fresheners that can help your home smell amazing without harmful ingredients.
Are Air Fresheners Toxic?
If you watch TV commercials, you think plugging in or spraying an air freshener will magically transport you to the beach, a flowering garden, or the mountains — some place where stress is nonexistent. While air fresheners can certainly smell nice, the truth is those pleasing scents mask some very dangerous toxins.
Many conventional air fresheners contain toxins like volatile organic compounds (VOCs), phthalates, carcinogens, and allergens. These ingredients can cause allergies, cancer, infertility, and all kinds of other health issues.
Why would companies include ingredients they know are toxic? Well, there are a variety of reasons.
Sometimes it's because they're cheaper than safer and more natural alternatives. Sometimes these ingredients can extend the shelf life of the air freshener or make the scent stronger. Or it might be a combination of many factors.
Here are some common toxic air freshener ingredients you want to avoid:
Fragrance
Anytime you see the word "fragrance" on an ingredient label, you should be concerned. With just this one word, companies are legally allowed to hide around 4,000 different chemicals without having to disclose what they are.
While some of these chemicals can be completely harmless, others can disrupt your endocrine system, trigger allergies, cause cancer, and more.
Chemical Preservatives
Many companies will use chemicals like benzisothiazolinone and methylisothiazolinone as preservatives. Unfortunately, these chemicals are known allergens and irritants.
Additionally, researchers are beginning to suspect that methylisothiazolinone might be an endocrine disruptor and a neurotoxin.
While preservatives are often necessary to extend the shelf life of products and prevent mold growth, there are plenty of safer alternatives available.
Ethoxylated Ingredients
While ethoxylated ingredients themselves are of low concern, the process of ethoxylation can create and leave behind small amounts of carcinogens.
The two chemicals of highest concern are ethylene oxide and 1,4-dioxane, which are both known to cause multiple types of cancer and infertility.
Non-Toxic Air Fresheners and Room Sprays
Now that you know more about the toxic ingredients in air fresheners and you're ready to make the switch to something that's better for your health, take a look at these best non-toxic air fresheners.
1. DIY Air Freshener
You don't have to mess with toxic sprays and chemicals to freshen up things around your house because it's actually wonderfully easy to make your own.
This DIY air freshener uses just a few simple and natural ingredients, yet it's impressively effective at removing odors from furniture, clothes, rugs, and more.
Even better, it's not the only product you can make if you're interested in green cleaning your entire home. This natural cleaning products bundle comes with over 25 printable recipe cards that will help you make everything you need to naturally clean every room in your house.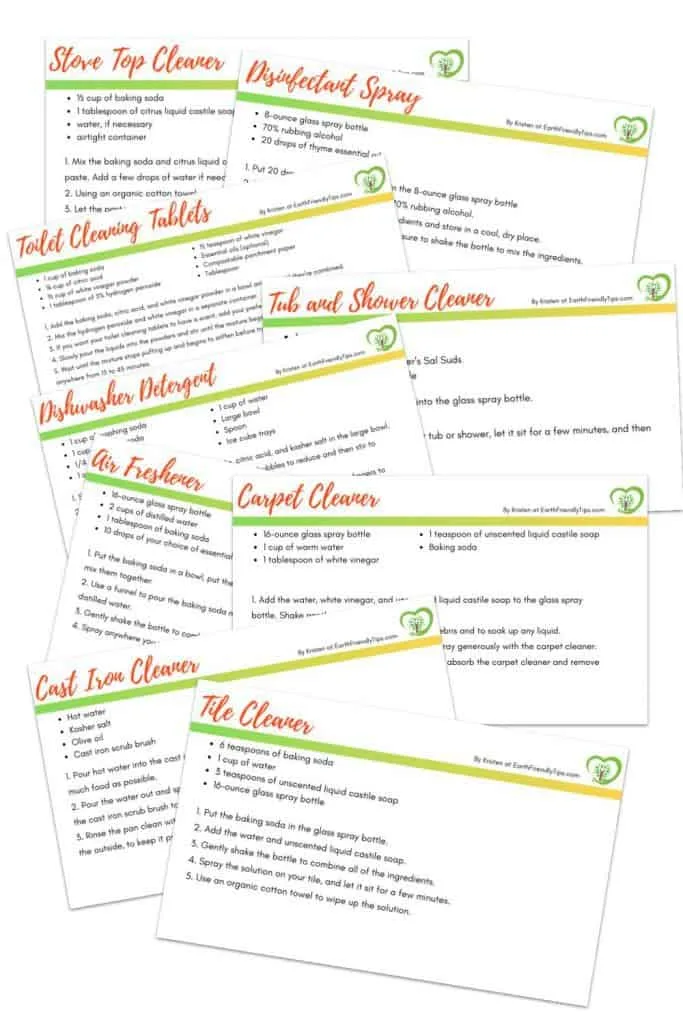 Not only that, you'll also get labels for the cleaning products, a guide to my favorite essential oil cleaning blends, and a cheat sheet on natural cleaning ingredients you should never mix together so you can always stay safe.
With this bundle, it's now easier than ever to make all of the DIY cleaning products you need to keep toxic chemicals out of your home!
Related: The Complete List of What You Need to Make Natural Cleaning Products
2. Dropps Revitalizing Mist
Don't have time to DIY? That's not a problem! You still have plenty of great eco-friendly air freshener options available.
One of those options is this Revitalizing Mist from Dropps. You might be familiar with Dropps because of their incredible eco-friendly dishwasher detergent and their amazingly effective natural laundry detergent. But did you know they make a variety of other sustainable products you can use around your home?
The Revitalizing Mist uses biodegradable plant-based ingredients that activate on contact to banish tough odors and refresh the air. The aerosol-free formula doesn't contain any phthalates, dyes, sulfates, alcohol, or parabens, and it's never tested on animals.
You can use it to deodorize clothes, freshen the air, and treat fabrics that you can't easily wash, like rugs and furniture. With scents that include Clean & Crisp, Lemon Verbena, Lavender Chamomile, and Forest Air, you'll have no problems finding one you like.
Best of all, it comes shipped to your house in compostable cardboard packaging and an amber glass bottle you can either reuse or recycle.
Interested in trying Dropps? If you're a new customer, be sure to use the code EarthTips25 for 25% off. Already a Dropps customer? Not a problem! You can enjoy 15% off when you use the code EarthTips15.
Related: The Best Non-Toxic Candles With Amazing Scents You'll Love
3. Earthy Edith's
Earthy Edith's makes a variety of excellent eco-friendly cleaning products, including natural refreshing sprays.
You can use the natural mattress and linen refreshing spray to leave behind a crisp and clean scent on mattresses, couches, linens, and more. The all-natural formula also works hard to get rid of dust mites, old skin cells, fungal spores, bacteria, and other gross things you don't want to share a bed with.
Related: How to Create an Eco-Friendly Sanctuary in Your Bedroom
The Woodland Wondermist natural air spray is another great option that uses eco-friendly and natural ingredients to freshen furniture, clothes, and the air in your home.
Not only is Earthy Edith's American factory zero waste and all the products come in reusable and recyclable containers, but you can also get the products from EarthHero, which is one of the best online zero waste shops for all of your eco-friendly essentials.
If you decide to try out Earthy Edith's non-toxic air fresheners from EarthHero, be sure to use the code EARTHFRIENDLY to enjoy 10% off your order!
4. Enviroscent
Do you like the convenience of plug-in air fresheners, but you want something that doesn't use toxic chemicals. Then you'll love the eco-friendly plug-in air fresheners from Enviroscent!
The company uses non-toxic ingredients to make fresh fragrances that smell the way nature intended. You'll also appreciate that the sustainable packaging and refillable, reusable, and recyclable products are very planet friendly.
To get started, purchase one of the starter kits that includes the warmer and the scent pod. Once the scent pod runs out, simply recycle it and purchase a refill pod.
Plus, plug in air fresheners aren't the only things you can get from Enviroscent to freshen up the air. They also make stylish reed diffusers and car air fresheners.
You can find Enviroscent products and plenty of other affordable healthy and organic food at Thrive Market. For a limited time, you can get 40% OFF your first order and a FREE gift when you join. So make sure you sign up for Thrive Market today!
5. Moso Natural Air Purifying Bag
Sometimes, traditional air fresheners just cover up odors in your home. What if you want to completely eliminate them?
Then you should pick up some Moso Natural air purifying bags! I use one right next to my cat's litter box to help banish odors there. But you can also put them in closets, place them in bathrooms, stick them in gym bags, or put them pretty much anywhere else you want clean, fresh air.
The bags are filled with bamboo charcoal, which is an extremely effective natural air purifier that absorbs odors. They're completely fragrance- and chemical-free.
One bag can last up to 2 years. All you have to do is place it outside in the sun once a month for about an hour to recharge the charcoal. Once it reaches the end of its useful life, you can sprinkle the bamboo charcoal in your garden to promote plant growth!
Plus, don't forget that Mother Nature does an amazing job of purifying air! These hard-to-kill houseplants naturally purify air and can survive even the most neglectful plant parents.
Do you have four-legged family members in your house? Then you'll definitely want to take a look at this list of the best pet-friendly houseplants that clean the air.
6. Zum Mist
You can use Zum Mist from Indigo Wild as either a room refresher or a body mist. The spray is made with simple, plant-based, and natural ingredients, like purified water and pure essential oils.
You can also feel good knowing the spray doesn't contain any parabens, phthalates, alcohol, or dyes. Plus, it's never tested on animals.
With pleasing scents like sandalwood citrus and sea salt, it's easy to find one that suits your mood.
To use it, give the bottle a shake and then simply spray it wherever you need a refreshing scent, such as your bed sheets, the bathroom, your gym bag, your car, or around the room. You can even spray it on your dryer balls to give your laundry a light scent without having to use toxic dryer sheets!
7. Stovetop Simmer
Another natural way you can make your entire house smell good is with a stovetop simmer. Stovetop simmers are especially popular in the fall and winter because you can make a variety of warm and inviting scents.
Just keep in mind that stovetops release heat when you use them, so it might not be the best idea to use a simmer in the summer when you're trying to keep your house cool without using air conditioning.
To make your own stovetop simmer, simply add 4 to 6 cups of water to a large pot and put it on your stove. Set the heat to low, add your desired ingredients, and let the mixture simmer as long as you want.
Just make sure to keep an eye on it so the water doesn't boil over. You can also add more water as necessary. Or, you can combine all of the ingredients in a crockpot and let it simmer uncovered on low.
If you're not sure what to add to your stovetop simmer, here are some lovely options to try:
Lemon slices, vanilla beans, and rosemary
Apple slices, cranberries, and cinnamon sticks
Orange slices, cranberries, and sage
Orange slices, cinnamon sticks, vanilla beans, and clove buds
Don't forget, since you're using natural ingredients to make your simmer, you don't have to throw them away when you're done. Instead, you can compost them!
The Best Non-Toxic Air Fresheners That Actually Work
You don't have to rely on toxic air fresheners to keep your home smelling good. Instead, turn to one of these best non-toxic air fresheners to enjoy delightful scents without any dangerous ingredients!
More Helpful Eco-Friendly Tips
Did you enjoy learning more about the best eco-friendly air fresheners? Are you interested in discovering even more tips about sustainable living? Then please be sure to take a look at some of our other popular posts: