How to Make Homemade Weed Killer
If you're looking to keep your sidewalks and garden area clear of weeds without having to turn to toxic chemicals, discover how to make this homemade weed killer.
It only requires a few simple ingredients, and it can banish those weeds without any difficult work on your part.
Why You Should Make Natural Weed Killer
You've likely heard the news lately. Glyphosate, a popular weed killer better known as Roundup, has been accused of causing cancer.
I'm not too thrilled about spraying any type of chemical where my son plays, and certainly not one that has accusations of cancer flying around. Of course, I also REALLY don't like weeding.
Related: The Best Natural Insect Repellent for the Whole Family
I'll gladly do 10 loads of laundry, empty the dishwasher, clean the bathrooms, dust the house, and clean the floors before I'll even think about weeding.
So, I decided to find out how to make a homemade weed killer that was safe and natural. After a lot of trial and error, I finally discovered a natural weed killer that actually works.
Related: How to Have an Eco-Friendly Cookout
But what if you don't have time to DIY? That's not a problem! Simply check out these best organic weed killers that are ready to use right from the bottle and are safe for people, pets, and the planet.
How to Make Homemade Weed Killer
Ingredients
Directions
Mix the vinegar, Sal Suds, and Epsom salt in the pump sprayer until the salt has completely dissolved.
Spray the mixture on the weeds in the morning after any dew has dried.
Allow the combination of the afternoon sun and homemade weed killer to kill the weeds.
The Results
So let's take a look at this homemade weed killer in action. Here is a small area beside my house where weeds just love to pop up.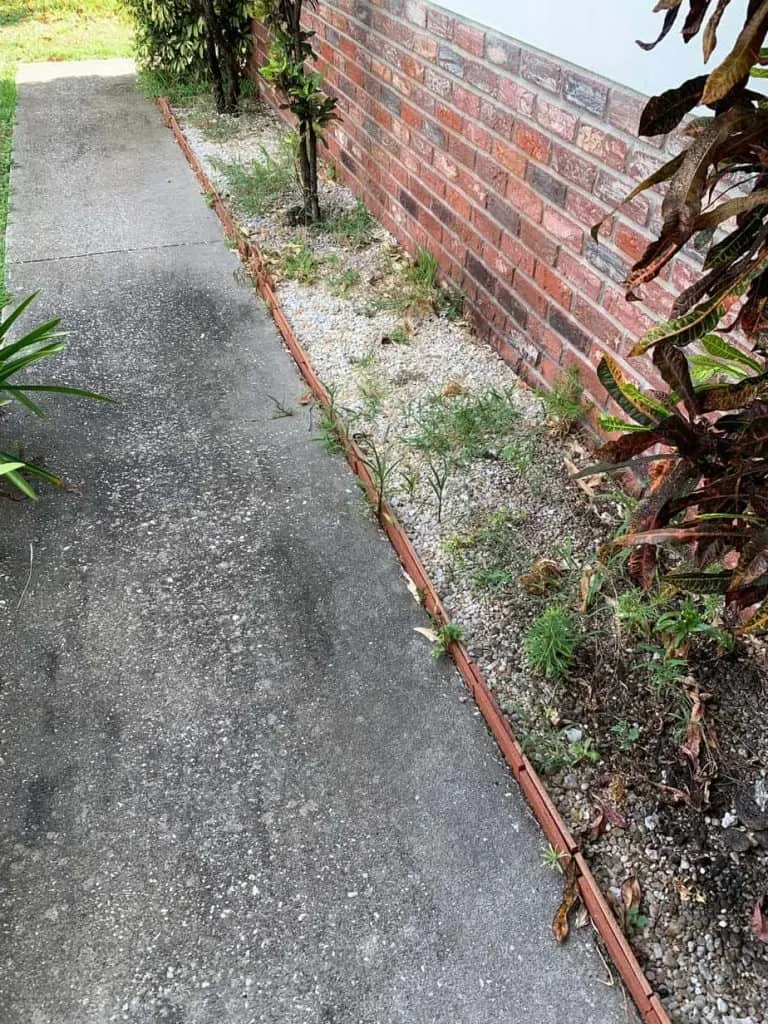 Yeah. I wasn't lying when I said I really, REALLY don't like to weed. So I sprayed the weed killer on in the morning, and allowed it to do its thing. Let's see what happened.
Take a look at that! This is actually after only a few hours. As you can see, the weeds are already starting to die without me having to use any toxic or dangerous chemicals.
Related: The Best Plants That Naturally Repel Mosquitoes
A Few Important Notes
Vinegar and Epsom salt are desiccants, meaning they're able to draw moisture from other items. Sal Suds breaks up the waxy surface on weed leaves and makes it easier for the vinegar and Epsom salt to soak in.
When these three ingredients combine, they make a powerful and natural weed killer that draws moisture from the weed and causes it to die.
However, it's important to keep in mind that this weed killer can't tell the difference between a weed and a good plant. Therefore, when you're spraying the weed killer, make sure you don't accidentally spray anything you want to keep, such as these fast-growing vegetable plants for a quick harvest.
More Eco-Friendly Living Tips
Now that you see how easy it is to swap out toxic weed killers for a natural weed killer, are you interested in even more eco-friendly tips? Then be sure to check out a few of our other popular posts: