Where to Find the Best Eco-Friendly Christmas and Holiday Cards
Every year in the United States, people send about 2.3 billion greeting cards ⁠— and the vast majority of those cards are sent around the holidays. Unfortunately, most of those cards end up in the trash. That's why more and more people are turning to some of the best eco-friendly Christmas cards.
If you're trying to celebrate a more sustainable Christmas, you might be interested in sending your own eco-friendly greeting cards. Whether you're looking for tree-free Christmas cards or seeded Christmas cards, you'll find the perfect option when you check out these best sustainable Christmas cards!
Is it Environmentally Friendly to Send Christmas Cards?
At one time, sending Christmas cards was a simple project that let friends and family know what's new in our lives and allowed us to pass along our warm wishes. However, as we become more aware of our environmental impact, many people are now beginning to wonder if sending Christmas cards is eco-friendly.
Related: Real or Artificial: Which Christmas Tree Is More Eco-Friendly?
Obviously, one of the biggest issues with greeting cards is that they're made from paper. And as we all know, companies get this paper by cutting down the very trees we need for the air we breathe and to help fight climate change.
Some of the inks and dyes used to color greeting cards can contain volatile organic compounds (VOCs). VOCs are nasty chemicals that can hide in everything from mattresses to common household cleaning supplies. In addition to causing short-term issues like headaches, itchy eyes, and asthma attacks, long-term exposure to VOCs can lead to elevated blood pressure, kidney damage, and possibly even cancer.
Plus, even that pretty glitter on Christmas cards has its own issues. Glitter is a microplastic typically made from a combination of aluminum and plastic.
Since microplastics can become airborne and come down in the rain, they have been found everywhere from the bottom of the ocean to protected natural areas that are supposed to be untouched by humans. Microplastics are so prevalent, it's estimated we ingest about five grams of them every week. That's the equivalent of eating a credit card!
Related: How to Prevent Microfiber Pollution From the Laundry
If all of these problems weren't enough, you then have to consider that most of the Christmas cards sent around the holidays end up in the trash when the season is over.
Can Greeting Cards Be Recycled?
Although most greeting cards are made from paper, they can't be recycled. This is because in addition to paper, many cards also contain materials that aren't recyclable, such as glitter, foil, plastic, and ribbons.
If you receive a bunch of Christmas cards during the holidays and you don't want to throw them away, be sure to check out our guide on how to recycle Christmas cards. It offers plenty of unique ideas on how you can reuse and recycle your cards so they don't end up in the trash!
Related: The Best Eco-Friendly Christmas Gifts Kids Will Actually Love
Is it Acceptable to Send an E-Card?
If you're trying to come up with a few ideas for eco-friendly Christmas cards, you might be wondering about e-cards. While e-cards certainly don't produce any waste, they are a bit cold and impersonal. You also have to consider the fact that e-cards aren't totally green since they require data centers and electronic storage, which have huge carbon footprints.
Related: Awesome Eco-Friendly Stocking Stuffers for Everyone on Your List
10 Green Alternatives to Christmas Cards
If you decide an e-card just isn't for you and you still want to send a Christmas card, that's OK! There are still plenty of sustainable Christmas card options you can use. Just check out these green alternatives to Christmas cards and pick out the one you like best!
1. Paper Culture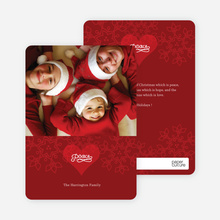 Paper Culture understands that a world without trees is a world where we can't survive. That's why no new trees are cut down to make their holiday cards, wedding invitations, greeting cards, and more.
Instead, they make their products using everything from 100% post-consumer recycled paper to sustainably grown and harvested bamboo.
Since they use sustainable materials and they offset their carbon footprint through carbon credits, the EPA recognizes Paper Culture as a Top 10 Climate Leader and they're certified as a Green Business.
But that's not the best part. For every order placed, Paper Culture plants a tree where reforestation is needed most. So far, thanks to customers just like you, they've been able to plant over 1 million trees!
You can find everything from holiday postcards to holiday photo cards that you can personalize with your own pictures, which makes it easy to get the exact design you love.
Related: How to Recycle a Christmas Tree After the Holidays
2. Tree-Free Greetings
Tree-Free Greetings makes charming cards your family and friends will love to receive. As the name suggests, these cards aren't made with trees. Instead, the cards are printed on 100% post-consumer recycled paper and the envelopes are made from 100% wheat straw.
The paper is made using wind power and processed without chlorine, and the cards are printed with solar energy.
The designs range from cute and whimsical to classy and beautiful. Plus, in addition to Christmas cards, Tree-Free Greetings makes birthday cards, thank you cards, sympathy cards, and blank note cards, so you can find sustainable greeting cards for every occasion.
Best of all, you can get Tree-Free Greetings from EarthHero, which is one of the best zero waste online shops out there. If you decide to try out these eco-friendly Christmas cards from EarthHero, be sure to use the code EARTHFRIENDLY to get 10% off your order!
Related: 10 Incredible Zero Waste Gift Wrap Ideas
3. Bloomin
If you want to send out a unique zero waste Christmas card, check out the line of Seeds N' Greetings cards from Bloomin. Unlike traditional cards that leave behind trash when the holidays are over, these cards leave behind beautiful flowers.
That's because the cards are handmade using artisan seed paper. They're created in a solar-powered production facility and made with 100% post-industrial recycled paper, vegetable-based dyes and pigments, water-based inks, and corn-based packaging.
After the holidays, all your card recipients have to do is soak the card overnight, tear it up, plant it under a thin layer of soil, give it a little water, and watch the colorful wildflowers start to grow.
Related: Eco-Friendly Gifts for Women That She'll Truly Adore
4. Cute Root Co
If you're looking for a variety of eco-friendly Christmas cards to send to everyone on your list, pick up this mega bundle from Cute Root Co. You'll get 20 absolutely adorable plantable seed paper cards all decked out for the holidays.
These handmade cards are printed on 100% post-consumer recycled paper and come with matching envelopes. They're embedded with a non-invasive mix of wildflower seeds, including black-eyed Susan, alyssum, Siberian wallflower, and baby blue eyes.
When the holidays are over, simply soak the card in water, place it in a resealable bag, and tape the bag to a bright window. In about 3 or 4 days, the seeds will begin to sprout.
When they do, carefully tear the sprouted pieces off the card and place them in soil. Keep the soil moist as the seeds grow, and you'll soon have a beautiful mix of wildflowers!
Cute Root Co plants a tree for every order placed. Additionally, since you can purchase these sustainable Christmas cards from Etsy, the carbon emissions from shipping and packaging will be offset.
5. Arbor Day Foundation
The Arbor Day Foundation is known for helping to preserve trees and make this planet a greener and healthier place. Thanks to their Give-A-Tree cards, you can celebrate the season AND give a special gift that lasts a lifetime.
That's because every card purchased plants a tree in one of the forests around the country that's in desperate need of replanting. For that special touch, you can even personalize these cards for free!
The cards are made using 100% recycled paper and have lovely designs that celebrate the beauty of the season. Plus, in addition to holiday cards, you can find birthday cards, thank you cards, care and concern cards, and cards for other special occasions!
In addition to being able to buy cards individually, you can also purchase a 10-pack that has an assortment of holiday cards.
Related: How to Easily Save Trees by Reducing Paper Towel Use
6. Paper Rose Studio
The sustainable Christmas cards from Paper Rose Studio have remarkably lovely watercolor illustrations on the front that will make your cards stand out from all of the other ones your friends and family receive. Of course, that's not the only reason you'll love these cards.
The handmade cards are created using eco-white card stock made from 100% recycled paper. They also include matching envelopes that are also made from recycled paper.
To help cut down on waste as much as possible, orders are packaged using recycled, compostable, or eco-friendly materials whenever possible.
Plus, since you don't need one more thing to stress about this holiday season, you can choose to have a personal message printed on the inside of your cards for free!
7. Green Field Paper Company
Green Field Paper Company makes a variety of unique and sustainable paper products. If you're interested in eco-friendly Christmas cards, check out their holiday collection.
Their Grow-a-Note holiday cards are made with 100% recycled paper and embedded with non-invasive and non-GMO wildflower seeds. Simply plant the card, water it, and watch it grow!
The Hemp Heritage holiday cards are made with a mix of 75% post-consumer recycled paper and 25% hemp for a beautiful and sustainable card.
The Junk Mail holiday cards are another unique option from Green Field Paper Company. These are the only tree-free paper cards created using recycled junk mail.
Not only are they a great way to pass along your holiday wishes, but they also show recycling as an art form since you can actually see some of the fragments of junk mail in the colorful paper.
Related: The Top Eco-Friendly Gifts That Men Actually Want to Receive
8. Twigs
Twigs has an awesome variety of eco-friendly cards for pretty much every occasion you can think of, including Christmas. Not only are all of their cards made from 100% recycled materials, but they're also designed and printed in the USA.
Since bleaching paper with chlorine can cause water and air pollution, the cards are either unbleached or bleached without harmful chemicals. Additionally, the cards are printed with non-toxic, eco-friendly inks.
In addition to making it easy to send an eco-friendly Christmas card, Twigs also makes it simple to find something that perfectly suits your style.
These festive cards have a fun design on the front. They're blank inside so you can include a personal holiday message.
If you like to give funny cards, you'll love this set of hilarious Christmas cards. Like the festive cards, they're blank inside so you can include a custom holiday greeting.
No matter which ones you choose, you can feel good knowing you're getting cards from a company that's taking steps to minimize packaging and eliminate plastic.
9. Botanical PaperWorks
Botanical PaperWorks is one of the leading producers of seed paper. Their collection of holiday cards are made using post-consumer recycled paper and embedded with wildflower seeds.
Since the company collects its paper waste from businesses and schools in their area, it's estimated they prevent 10 tons of paper from ending up in the landfill every year.
The seed paper is tested to ensure it's free of weeds and invasive species. The wildflower seeds embedded in the cards are approved by the United States Department of Agriculture (USDA) and the Canadian Food Inspection Agency for planting in the U.S., Canada, European Union, and other locations around the world.
Their designs are so beautiful, you know the cards will look great displayed in your recipient's home over the holidays. There are dozens of lovely designs to choose from, and they come in biodegradable corn plastic packaging.
After the season has passed, all your recipients have to do is plant the card under a thin layer of soil and watch the flowers grow.
Related: Top 15 Eco-Friendly Gifts That Are Less Than $25
10. DIY the Best Eco-Friendly Christmas Cards
If you really want to get creative and cut down on waste, you can make your own Christmas cards! There are so many ways you can make DIY Christmas cards — the ideas are almost endless.
You can reuse cards you received last year to make new cards for this year. Or you can use recycled paper to make your cards.
If you like the idea of seed paper, you can either buy a packet of paper to use for your cards or make your own homemade seed paper.
Related: Unique Upcycled Christmas Gifts Everyone Will Love
What to Look for When Picking Out Eco-Friendly Christmas Cards
To ensure the Christmas cards you're choosing are a sustainable choice, here are a few things you'll want to keep in mind as you're shopping.
Card Materials
The most eco-friendly holiday cards are those printed on 100% recycled paper. Additionally, you'll want to make sure the cards don't have any extra embellishments.
Pure paper cards without additional decorations are easy to recycle again once the holidays are over and your recipient is done enjoying them.
Seed paper or plantable cards are another great environmental option because your recipient can plant them after the holidays. This prevents paper waste and gives the card a second life at growing flowers that are good for pollinators.
Finally, look for cards that are made without acids or bleach. This ensures no harmful pollution is released into the environment during production.
Card Packaging
A recyclable cardboard box is the best type of packaging for eco-friendly Christmas cards. Some companies might also wrap their cards in biodegradable materials.
Of course, always try to avoid plastic boxes and packaging whenever possible.
Company Philosophy
Finally, consider what type of philosophy the card company has toward the environment.
Some greeting card companies might use wind or solar energy to power their production plants. Others might have a company-wide recycling program, be committed to lowering their carbon footprint, or have a zero waste factory.
Where we spend our money is an important way to show what's important to us. To make sure you're shopping with a company that values a healthy and sustainable future, check out the environmental policies and ensure they line up with what's important to you.
Festive Greetings With Eco-Friendly Christmas Cards
Although they're small and simple, Christmas cards create a ton of excess waste during the holidays. Fortunately, it's easy to help cut down on this waste and still enjoy the tradition of sending greeting cards when you choose one of the best eco-friendly Christmas cards.
More Excellent Eco-Friendly Tips
Did you enjoy learning more about the best eco-friendly Christmas cards? Are you interested in discovering even more helpful tips about sustainable living? Then please be sure to check out a few of our other popular posts: