8 Eco-Friendly Cards From Sustainable Brands
Whether you need an eco-friendly greeting card for a birthday, wedding, baby shower, graduation, or just to say hello, you can make it more sustainable by choosing one of these best eco-friendly greeting cards.
Learn more about what makes a greeting card eco-friendly, whether or not you can recycle greeting cards, and why you should buy eco-friendly cards.
1. Paper Culture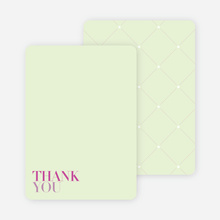 From beautiful eco-friendly Christmas cards to unique thank you notes, you can find all types of eco-friendly cards and stationary at Paper Culture. Everything this company does is with sustainability in mind.
First, whether it's 100% recycled paper or bamboo, all of their products are made with sustainable materials. The company also offsets their carbon footprint using carbon credits, which helps put resources back into the planet.
Plus, with every order placed, they plant a tree where reforestation is most needed. To date, Paper Culture has planted over 1 million trees!
Related: Save Trees With the Best Eco-Friendly Toilet Paper
2. Tree-Free Greetings
Tree-Free Greetings is another company that makes all types of eco-friendly greeting cards. You can get birthday cards, sympathy cards, thank you cards, and even blank cards that you can use to write your own personalized message.
As their name suggests, their cards aren't made with any trees! Instead, they're made from thick and sturdy 100% post-consumer recycled paper cardstock.
They're also printed in the United States with solar power and processed without chlorine. This helps make the cards recyclable at the end of their life.
You can get Tree-Free Greetings at EarthHero, which is one of the best zero waste online shops for all of your eco-friendly essentials. If you decide to get these cards, be sure to use the code EARTHFRIENDLY to take 10% off your order!
Related: How to Shop at a Zero Waste Store
3. Marissa Kay Apothecary
Marissa Kay Apothecary is a small, family run business that makes beautiful plantable seed cards for just about every occasion you can think of. This includes gorgeous designs for thank you cards, birthday cards, Mother's Day cards, and holiday cards.
The cards and envelopes are made from recycled paper. Additionally, the cards are embedded with wildflower seeds that can attract bees and other pollinators.
Once your recipient is done enjoying their card, they can simply tear it up and spread the paper in their garden or in a pot to grow bright and cheerful wildflowers.
Plus, to help make these cards even more sustainable, Marissa Kay Apothecary uses recycled shipping materials whenever possible to help cut down on waste.
Related: Top 11 Awesome Eco-Friendly Gifts for Kids They'll Absolutely Love
4. Twigs
Twigs has an absolutely beautiful selection of cards to suit every occasion. You can find thank you cards, birthday cards, Christmas cards, Valentine's Day cards, wedding cards, baby cards, blank cards, and more!
All of the cards have been made from 100% post-consumer paper waste. Since bleaching paper with chlorine has been linked to water and air pollution, the cards are either unbleached or bleached without harmful chemicals.
Additionally, Twigs uses soy and algae-based inks and non-toxic digital toners to make sure all of their cards have a minimal impact on the environment.
Related: How to Make Homemade Natural Dyes in Stunning Colors
5. Paper Rose Studio
The eco-friendly greeting cards from Paper Rose Studio have lovely watercolor illustrations of flowers, herbs, and cheerful sayings. You'll find all types of holiday and seasonal cards available, such as fall, Thanksgiving, Christmas, Mother's Day, and Valentine's Day.
Most of the cards are blank inside so you can include your own special message to the recipient.
The cards are printed on 100% recycled card stock and include premium recycled envelopes. Plus, orders are packaged using recycled, compostable, or eco-conscious materials whenever possible.
Related: The Best Eco-Friendly Gifts for Men That They Actually Want to Receive
6. Graphic Anthology
Graphic Anthology makes beautifully designed and eco-friendly cards that you'll love to give to your friends and family. The cards and envelopes from this woman-owned business are made from FSC certified recycled paper.
While the cards have joyful prints and positive messages, they don't contain any extra materials like glitter, plastic, or cloth. This makes them completely recyclable at the end of their useful life.
Additionally, the cards ship right to your home in a box made from recyclable cardboard, which makes zero waste gift giving even easier.
7. Arbor Day Foundation
Arbor Day Foundation is known for its work protecting and planting trees. So it should come as no surprise that the company also has a fantastic line of eco-friendly greeting cards!
Every Give-A-Tree card you purchase plants a tree in honor of your family, friends, customers, or anyone else you're giving the card to. You can personalize the cards for free with no minimum order required.
You can find birthday cards, holiday cards, thank you cards, care and concern cards, special occasion cards, and even just because cards.
Related: Make the Switch to These Top Tree-Free Paper Towels
8. DIY Your Greeting Cards
If you're looking for a great way to cut down on waste and give a more sustainable greeting card, you can make your own! There are so many ways to get creative and make DIY greeting cards.
One idea is to save greeting cards you receive throughout the year and use them to make new cards. You can also use recycled paper to make your cards.
If you like the idea of using seed paper, you can either buy a packet of seed paper to use for your cards or make your own homemade seed paper.
Related: The Best Non-Toxic Art Supplies for Kids and Adults
Why Should I Buy Eco-Friendly Greeting Cards?
One of the biggest problems with greeting cards is that they're made from paper. As we all know, paper comes from the very trees that help us fight climate change and provide the air we need to breathe.
Related: 5 Incredibly Easy Ways to Reduce Paper Towel Use
On the other hand, eco-friendly greeting cards are typically made with either recycled paper or a more sustainable material, such as bamboo. This helps save our crucial trees.
Additionally, some traditional cards use inks and dyes that can contain volatile organic compounds (VOCs). VOCs are nasty chemicals that can hide in everything from mattresses to common household cleaning supplies.
Not only can exposure to VOCs cause short-term health issues like itchy eyes, headaches, and asthma attacks, but long-term exposure can also lead to kidney damage, elevated blood pressure, and possibly even cancer.
Plus, while the glitter on greeting cards might look pretty, it has its own issues. Glitter is a microplastic typically made from a combination of aluminum and plastic.
Related: Natural Crafts for Kids That Are Incredibly Easy and Fun to Make
Since microplastics can become airborne and come down in the rain, they have been found pretty much everywhere on this planet. Microplastics are so prevalent, it's estimated we ingest about five grams of them every week. That's the equivalent of eating a credit card!
Related: How to Prevent Microfiber Pollution From the Laundry
Plus, to make matters even worse, keep in mind that most greeting cards simply end up in the trash when people are done with them.
Can Greeting Cards Be Recycled?
Because many greeting cards have a mix of different materials, such as glitter, ribbon, foil, and plastic, they often aren't recyclable. However, if the cards are made with just paper alone, then you can put them with your paper recyclables.
Fortunately, you have other recycling options if your cards are made with more than just paper. Simply check out this post on awesome ideas to recycle greeting cards to find out more!
The Best Eco-Friendly Greeting Cards for Every Occasion
Whether you're sending a card in the mail or giving it with a gift, you don't have to worry about its negative environmental impact. Instead, choose one of these best eco-friendly greeting cards and pass along your well wishes to your friends and family in a more sustainable way.
More Outstanding Eco-Friendly Tips
Did you enjoy learning more about the best eco-friendly cards? Are you interested in checking out even more helpful tips? Then please be sure to take a look at some of these other popular posts: