Eco-Friendly Food Storage for a Sustainable Kitchen
If you're trying to create a more sustainable kitchen, making the switch to eco-friendly food storage containers is an incredibly important step. Not only will these containers help reduce the amount of plastic pollution destroying our planet, but they also protect us from dangerous chemicals that can leach from plastic.
However, there are so many different options out there. How do you know which ones will suit all of your needs?
That's where this guide can help. We go over the best eco-friendly food containers that we use to help eliminate plastic from our homes and live a healthier, more sustainable life.
Whether you're cutting down on food waste by storing leftovers from dinner, or you're meal prepping for the coming week, you can ensure everything is safe and secure when you check out these best eco-friendly food storage containers.
Why Switch From Plastic Containers?
At one time, it seemed like everyone had cabinets full of those ubiquitous plastic food storage containers. Unfortunately, recent studies have found that plastic food containers can release chemicals into the food or liquids inside them, which then ends up inside of us when we eat those foods.
This study found that nearly all plastic containers (including BPA-free plastic) tested positive for chemicals that mimic or antagonize naturally occurring estrogen in the body. These chemicals can produce a variety of health-related problems, such as obesity, reproductive organ damage, early puberty in women, reduced sperm count, and increased rates of some breast, ovarian, testicular, and prostate cancers.
This is just one reason why it's so important to ensure babies drink from plastic-free bottles and young kids get their food and drinks in plastic-free cups and tableware.
In addition to health concerns, we should try to avoid plastic food containers whenever possible because they contribute to our growing climate crisis and pollution problem. Almost all plastic products are derived from petroleum, which is a fossil fuel with a huge carbon footprint.
When these containers break or wear out, we typically can't recycle them. The "best-case" scenario is that they end up in landfills. However, many will wind up in our waterways, such as the Great Pacific Garbage Patch.
Once they're thrown away, they'll never properly biodegrade. Instead, they'll break down into smaller and smaller pieces of microplastics. These microplastics have been found everywhere in nature, including our own bloodstreams, and scientists have no idea what their long-term health implications might be.
The Best Plastic-Free Food Storage Containers
Now that you know why it's important to stop using plastic food storage containers, you're probably ready to make the switch to the best eco-friendly reusable products. Whether you're storing wet foods, liquids, or dry goods, you'll find the best alternatives to plastic on this list!
1. Ceramic
You might be familiar with Caraway because of its outstanding collection of non-toxic cookware that helps keep dangerous chemicals from getting into your food when you cook. But did you know the company also makes clean and stunning non-toxic food storage containers?
These glass containers have a non-toxic, ceramic coating that's free of dangerous materials like BPA, BPS, PFA, PFOA, PTFE, lead, cadmium, and other toxic metals. The ceramic coating provides a food-safe, non-stick surface.
The set of 14 includes one large container with a lid, two medium containers with lids, two small containers with lids, and four mini containers with lids. The tightly sealed glass lids feature Air Release Technology that helps keep your food fresh and odors out.
In addition to being dishwasher safe, the ceramic containers are also microwave, oven, refrigerator, and freezer safe.
Related: The Best Non-Toxic Baking Sheets for Safer, Healthier Cooking
2. Glass
There's a reason why people have been using glass food storage containers for hundreds of years: they just plain work! If you need to get some glass storage containers, you can't go wrong with Pyrex.
Their containers are made with durable, high-quality tempered glass that can stand up to everyday use. Since they're glass, you know these containers will resist stains and won't absorb food odors or flavors.
They're also dishwasher and microwave safe. Plus, since they can handle freezing temperatures, you can even use them to freeze food without plastic.
In addition to the sets that come with different sizes, you can also find containers with special designs and characters. Pyrex even offers plenty of unique sizes, such as these 16-ounce jars that are perfect for everything from meal preps to storing baby food.
It's important to note that most of these containers come with plastic lids. However, you can easily ensure your food never comes into contact with the plastic by always leaving a bit of space between the lids and your leftovers.
Related: 17 Must-Have Sustainable Products to Make Your Kitchen More Eco-Friendly
3. Glass and Bamboo Storage Containers
If you like the idea of using glass containers, but you're trying to completely eliminate plastic from your life, check out these glass and bamboo storage containers. These storage containers are 100% free of plastic.
The containers themselves are made of high borosilicate glass that's easy to clean, doesn't contain heavy metals or dangerous chemicals, and is resistant to corrosion. The lids are made from renewable and natural bamboo.
You can safely use the glass container in the microwave, oven, refrigerator, dishwasher, or steamer. Just keep in mind that while the bamboo lids are dishwasher safe, you should never use them in the microwave or oven.
The containers are available from small to extra-large, so you can easily find the size you need to safely and sustainably hold your leftovers.
4. Mason Jars
Mason jars are a top pick for eco-friendly food storage containers because they're so versatile and come in numerous different sizes. You can use them to hold everything from fresh fruits to dry foods.
Stick one of these jar lids and your favorite reusable straw on a jar and you can even turn it into a drinking cup so you can completely eliminate plastic cups from your life!
Mason jars are also a great option if you're trying to live more sustainably on a budget. You can easily reuse glass jars you get at the grocery store, such as salsa jars and those you get with tomato sauces.
Related: The Genius Trick to Easily Remove Sticker Residue From Glass
5. Beeswax Food Wrap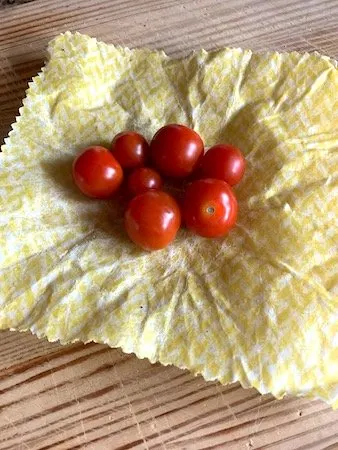 Beeswax food wrap is a fantastic sustainable alternative to plastic wrap. If you're not familiar with reusable food wraps, this post has a lot of great information and can answer all of your questions.
You can use reusable beeswax food wraps to cover pieces of food or place them over bowls. Simply use the heat of your hands to soften the beeswax and shape the reusable wax food wraps around your item.
It's important to note that high temperatures can melt the beeswax, so you don't want to use them in the microwave or oven. You also shouldn't clean them in the dishwasher.
Instead, just use cool water and a gentle, biodegradable soap to wash your wraps. Then pat them dry or hang them up to air-dry.
Be sure to check out this post for even more excellent tips on how to take care of your wraps and help them last as long as possible.
If you're feeling a little crafty and want to save some money, you can easily make your own homemade beeswax food wraps. On the other hand, if you don't have time to DIY, you can find plenty of beeswax wraps that work amazingly well.
These Etee food wraps are my favorite. They come in a variety of sizes, are made with natural and organic ingredients, and are completely compostable at the end of their useful life. Plus, they carry beeswax bags you can use for holding snacks or packing a waste-free lunch.
Are you vegan? That's not a problem at all! You can even get vegan food wraps that work just as well as their beeswax counterparts.
6. Silicone Storage Bags
Reusable silicone bags are a great way to eliminate single-use plastics from your life, and they're the perfect alternative to plastic food storage bags.
These Stasher bags are the gold standard when it comes to reusable bags, and they're the ones I prefer to use in my own house. They're made of 100% pure platinum silicone, which means they're non-toxic, free of BPA and BPS, and hypoallergenic.
They also have a pinch-loc seal for a leak-free closure, making them perfect for storing absolutely everything.
Not only do I love how strong and durable these bags are, but I also appreciate their versatility. They're safe to use in the microwave, oven, stovetop, dishwasher, refrigerator, and freezer!
Plus, even though they're designed to last a lifetime, if you ever need to dispose of them, Stasher will take the bags back through their repurposing program. So no waste ever ends up in the landfill!
Related: The Best Reusable Sandwich Bags and Snack Bags for a Zero Waste Lunch
7. Food Huggers
These Food Huggers are another outstanding silicone option for safely storing your food. Like the reusable storage bags, Food Huggers are made from high-quality, FDA food-grade silicone. This makes them vegan and free of BPA and phthalates.
The stretchable material allows the Huggers to create a seal around your leftovers that locks in moisture and keeps food fresh longer. Since they come in a wide variety of shapes and sizes, they can fit over fruits, vegetables, aluminum cans, and even bowls.
You can find Food Huggers at EarthHero, which is one of the best zero waste online stores that has all of the sustainable products you need for a more eco-friendly life. If you decide to order from EarthHero, you can use the code EARTHFRIENDLY to take 10% off your order!
8. Stainless Steel
Stainless steel containers are a fantastic option for eco-friendly food storage because they're safe, durable, and easy to clean. We have a variety of stainless steel storage containers from ECOlunchbox because the quality simply cannot be beat.
All of their products are made entirely from stainless steel or have a stainless steel base and a silicone lid. This means you never have to worry about plastic touching your food.
They also come in a variety of different shapes to suit all of your storage needs. There are large containers that are good for holding entire meals and smaller cups that are ideal for holding snacks.
Everything comes with a water-tight lid that makes it easy to toss the containers in a lunch box, bag, or backpack without worrying about any leaks. Plus, when you're done using them, you can simply stick them in the dishwasher to get them clean.
Related: How to Quickly Remove Rust From Metal in One Simple Step
9. Cloth Bags
Those same organic cotton reusable produce bags you use to reduce waste when you're grocery shopping can also be used to store food at home. Since the bags are so soft and breathable, they can go straight from the store to your refrigerator or pantry shelves.
These bags don't contain any plastic, so they're safe for your food and they'll keep your produce fresher. Plus, you know if they ever get dirty, you can simply toss them in the washing machine to clean them.
Related: How You Can Save Money by Purchasing Organic Food Online
The Best Reusable Food Storage Containers for a Green Kitchen
You want to make sure your food is always safe to eat, so don't store it in plastic containers that can leach dangerous chemicals. Instead, make the switch to the best eco-friendly food storage containers.
When you do, you can rest assured that not only are you keeping your food safe and helping to prevent food waste, but you're also doing your part to reduce waste and protect our environment.
Even More Helpful Eco-Friendly Tips You'll Love
Did you enjoy learning about the best eco-friendly food storage containers? Are you interested in discovering even more tips that can help you live a sustainable life? Then please be sure to take a look at some of our other popular posts: