As you're working your way toward a more sustainable bathroom, you want to make sure the products you use to clean everything are free from harsh chemicals. That's why it's important to make the switch to the best eco-friendly bathroom cleaner.
Whether you're interested in cleaning floor tiles, shower tiles, countertops, or anything in between, you can find a cleaning product that uses natural ingredients to safely and effectively get the job done.
Why Choose an Eco-Friendly Bathroom Cleaner?
Conventional household cleaners can hide some scary and dirty secrets. Many of them contain dangerous chemicals that are terrible for your health and awful for the environment.
For example, consider a common cleaner like LYSOL Bathroom Cleaner Spray. The Environmental Working Group (EWG) gives this cleaner an "F" grade because it can contain ingredients that can potentially harm your respiratory system, nervous system, digestive system, and the environment.
A few of the more concerning ingredients include:
Butoxydiglycol– concerns about respiratory effects, damage to vision, reproductive system damage, and cancer.
Dioctyl Dimethyl Ammonium Chloride– concerns about respiratory effects; nervous system effects, immune system effects, and general organ damage.
Dipropylene Glycol Butyl Ether– concerns about damage to vision, cancer, respiratory effects, skin irritation, and general organ damage.
Sodium Lauryl Sulfate (SLS)– concerns about damage to vision, general organ damage, and acute and chronic aquatic toxicity.
Fragrance– a non-specific ingredient companies can use to hide countless other ingredients with unknown effects on your health.
These toxins can actually do more harm than good and make the air quality in your home worse and more dangerous to breathe.
The thing is that we don't need to use such dangerous products to get our bathrooms clean. That's because natural, eco-friendly cleaning products are just as effective, but they don't use any of those harmful chemicals.
Take a look at these top eco-friendly bathroom cleaners to find the ones that will suit your needs and help you get a sparkling clean bathroom without harming your health or the health of the planet.
1. DIY Bathroom Cleaner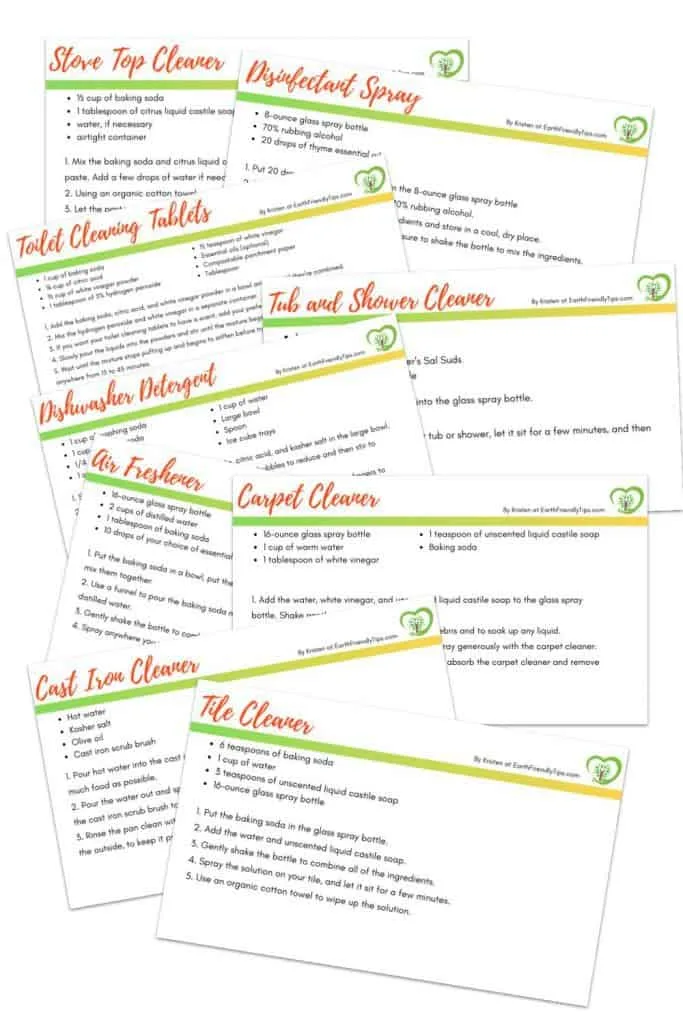 Did you know you can easily make your own eco-friendly cleaners using simple, natural ingredients you likely already have at home? You can when you pick up this bundle of natural cleaning recipe cards!
Not only do these natural cleaning recipes include everything you need to get your bathroom safely and naturally clean — such as a tub and shower cleaner, a toilet bowl cleaner, a ceramic tile cleaner, and a glass cleaner — but you'll also get a variety of other recipes to clean pretty much everything else in your house, including stainless steel appliances, carpets, countertops, and clothes!
Best of all, even though these recipes use simple ingredients like white vinegar, Castile soap, and baking soda, they're still amazingly effective at cleaning up all types of messes without a ton of scrubbing.
Related: Must-Have Products You Need for a More Sustainable Bathroom
2. Etee
If you don't have time to DIY, that's not a problem! You can still find plenty of natural bathroom cleaners that can get the job done without toxic substances, such as the line of household cleaners from Etee.
Etee has a great selection of cleaners you can use to get your bathroom shiny clean, including a toilet bowl cleaner, an all-purpose cleaner, a floor cleaner, and a window cleaner. Most of their cleaners come in concentrated form in their innovative backyard compostable pods.
To use them, simply fill a spray bottle with water, open the pod, pour the concentrate into the water, put the top back on, shake, and clean! You can then dispose of the pod in the compost and let it naturally biodegrade.
All of Etee's cleaners are made with plant-based ingredients that do an amazing job of cleaning. They don't contain any sulfates, parabens, or any other harsh chemicals.
Plus, since Etee is one of the best zero waste online shops for all of your eco-friendly essentials, you know everything will arrive right at your front door without any plastic waste!
Related: Get Sparkling Clean Mirrors With the Best Eco-Friendly Glass Cleaners
3. Fillaree
If you're looking for a great bathroom cleaner that fits in with a zero waste lifestyle, check out Fillaree. You can use this refillable cleaning spray on bathroom fixtures, countertops, porcelain, glass shower doors, and pretty much all other non-porous surfaces in your home.
Every product made by Fillaree is vegan, non-toxic, closed loop, safe to use around babies and pets, and doesn't contain any sulfates, parabens, or synthetic fragrances.
When you first get started, you can purchase the starter kit that comes with a full 16-ounce glass bottle and 64-ounce refill cardboard box. The refill box also comes with a "forever spout."
Once the refill box is empty, pop the spout into a new refill box, rinse out the old box, and contact Fillaree to get a prepaid return label once you have enough empties.
Related: Non-Toxic Air Fresheners That Smell Amazing and Are Safe to Breathe
4. Blueland
Blueland is another fantastic option for a zero waste and eco-friendly bathroom cleaner. Their natural bathroom cleaner can help you turn one of the dirtiest rooms in the house into one of the cleanest without any toxic chemicals.
This cleaner uses a plant-based formula to blast away soap scum on your shower curtain, stickiness on your countertops, and grime in your sinks. Even though the cleaner doesn't use any parabens, phthalates, ammonia, chlorine bleach, or volatile organic compounds (VOCs), it still provides amazing cleaning results.
When you're first getting started with Blueland, you can pick up the bathroom starter set that comes with the reusable spray bottle and 3 tablets to make 3 full bottles of bathroom cleaner. After that, you can simply reorder the bathroom refill tablet packs.
Anytime you need to make more cleaner, simply fill the spray bottle with water, drop in a tablet, and you're ready to go!
Since each tablet only costs a few dollars, Blueland cleaning products are a very economical choice that work out to be very similar to what you can buy at grocery stores. In fact, most homes only need 30 cleaning tablets to last a whole entire year.
Related: The Best Eco-Friendly Hand Soap for Naturally Safe Clean Hands
5. Earthy Edith's
Earthy Edith's has an impressive selection of eco-friendly cleaning products for every part of your house. If you're looking to get your bathroom in tip-top shape, this natural bathroom spray cleaner can help.
This cleaner is made from safe, non-toxic, effective, and chemical-free ingredients like distilled water, organic distilled white vinegar, and organic essential oils. It has a fresh, minty scent that will leave your bathroom smelling amazing.
Earthy Edith's operates out of a zero waste factory in the United States and uses reusable and recyclable materials in nearly every step of production. Plus, to help you cut down on waste, you can get the natural cleaner in a reusable glass spray bottle, a refill bottle with a funnel, or a refill concentrate that you add to water.
You can find Earthy Edith's products at EarthHero. If you decide to try some, don't forget to use the code EARTHFRIENDLY to enjoy 10% off your order.
Related: This Is the Best Vinegar You Should Use for Cleaning Your Home
6. Rosey by Thrive Market
You might already know about Thrive Market because it's seriously one of the best places online to find affordable organic food. But food isn't the only thing you can buy there! You can also get a variety of healthy home essentials, including their own line of cleaning products.
This Rosey by Thrive Market Tub & Tile Cleaner uses mineral- and plant-powered ingredients instead of harsh chemicals and synthetic fragrances to get your bathroom beautifully clean. The vegan cleaner doesn't contain any phthalates, parabens, petroleum, dyes, or color additives.
Yet you can just spray it on your bathroom surfaces and let it go to work melting away tough soap scum and hard water stains.
For a limited time, you can get $60 in free groceries when you join Thrive Market. So make sure you sign up today!
Related: How You Can Make Every Grocery Store Trip More Sustainable
7. Biokleen
Biokleen uses a unique combination of live enzyme cultures, lavender extracts, and lime extracts to clean and deodorize even your toughest bathroom messes. It can quickly and easily remove soap scum, mold and mildew stains, dirt, grime, and more.
To use this Biokleen Bac-Out Bathroom Cleaner, simply spray it directly on your hard surface and let it sit for 1 or 2 minutes. The live enzyme cultures immediately start working to break down dirt and odor.
Then you just have to wipe it clean. There's no need to rinse. If you have extra-tough spots, you can let the cleaner sit for 5 to 10 minutes to really give it a chance to work.
Instead of using phosphates, ammonia, chlorine, brighteners, or artificial fragrances to clean, Biokleen uses eco-friendly, non-toxic, plant-based ingredients that won't release any harsh fumes. Plus, since the cleaner has a biodegradable formula, it has no negative effects on streams, rivers, plants, or wildlife.
It's also made in the United States and the company doesn't use any animal testing.
Related: Microfiber or Cotton- Which Cleaning Cloth Is Better for the Environment?
8. Circular Bodies
Thanks to this multi-use cleaning powder from Circular Bodies, you can get a clean house with hardly any effort at all and make your cleaning routine even more eco-friendly. Not only is this natural cleaning powder incredibly effective, but it's also amazingly versatile.
If you mix 1 teaspoon of powder with 1 cup of warm water, you can create a powerful multi-purpose cleaner. Pour this cleaner into a spray bottle and you can use it to clean all types of bathroom surfaces. Or pour it into a bucket to wash your walls and clean your floors.
In addition to using the powder to make an all-purpose cleaner, you can also use 2 teaspoons in your washing machine as a laundry detergent or 2 teaspoons in your dishwasher to get your dirty dishes clean.
The cleaning powder uses natural, non-toxic ingredients like dirt-dissolving baking soda and antibacterial coconut oil to easily tackle all types of messes and bathroom grime. Best of all, it comes in a paper bag that's completely biodegradable at the end of its useful life, so you don't have to worry about any waste at all!
Related: The Best Eco-Friendly Sponges for Zero Waste Cleaning
9. Tru Earth
You might be familiar with Tru Earth because they make some of the easiest-to-use eco-friendly laundry detergent sheets. But did you know you can also get a lot of other cleaning products from them?
This includes their multi-surface cleaner that comes in simple-to-use eco-strips. These eco-strips give you all of the cleaning power of traditional products, but with none of the plastic waste!
All you need to do is put a strip in a spray bottle, add hot water, and shake. In about 30 seconds, the strip will dissolve into a powerful, concentrated cleaner with a fresh scent that you can use to clean countertops, sinks, floors, tubs, showers, and more.
Plus, in addition to the multi-surface cleaner, Tru Earth makes one of the best eco-friendly toilet cleaners. This toilet cleaner also comes in convenient eco-strips that are easy to use and don't create any mess.
Simply tear off a strip, drop it in your toilet, let it dissolve, and then give your toilet a quick scrub with your toilet brush.
Since all of Tru Earth's cleaning products come in a biodegradable cardboard sleeve instead of a plastic bottle, they're an easy way to reduce plastic waste and keep countless bottles out of the landfill.
Related: Simple Ways to Cut Back on Plastic Waste Right This Second
10. Mrs. Meyer's Clean Day
The household cleaners from Mrs. Meyer's Clean Day are made with plant-derived ingredients that can easily remove dirt, grime, soap scum, hard water stains, and more. Even though these cleaning products are powerful, they're cruelty-free and Leaping Bunny certified.
They also don't contain phthalates, glycol solvents, formaldehyde, chlorine, or harsh mineral acids. Mrs. Myer's Tub and Tile Cleaner is a great eco-friendly bathroom cleaner because it's tough on dirt while being gentle on the Earth.
It's specially formulated to use on pretty much all bathroom surfaces, including shower doors, sinks, countertops, tubs, toilet seats, tiles, and more! Simply spray it on and wipe it clean.
Since the bathroom cleaners have a garden-inspired fragrance derived from essential oils, your bathroom will smell amazingly fresh and clean every time you use them.
Related: Get Your Dirty Dishes Naturally Clean With the Best Eco-Friendly Dish Soap
Enjoy a Green Clean With the Best Eco-Friendly Bathroom Cleaner
If you have a dirty bathroom, you don't have to use toxic cleaners that are terrible for your health and bad for the environment. Instead, you can use the best eco-friendly bathroom cleaner made with simple, natural ingredients and enjoy a green clean!
More Outstanding Tips for Eco-Friendly Living
Did you like learning about the best eco-friendly bathroom cleaner? Are you interested in discovering even more tips that can help you live a sustainable life? Then please be sure to take a look at some of our other popular posts: