6 Eco-Friendly Electric Toothbrushes for a Sustainable Smile
For the longest time, if you wanted a zero waste toothbrush, you had to choose a manual bamboo toothbrush. Fortunately, that's not the case any longer! You can now enjoy the thorough clean of an electric toothbrush with the sustainability of bamboo thanks to the best eco-friendly bamboo toothbrush!
What to Consider When Buying an Eco-Friendly Electric Toothbrush
When you're shopping for an eco-friendly electric toothbrush, there are several things you want to keep in mind. To choose the most sustainable option, here are some questions to consider:
Does it come in recyclable/compostable packaging?
Is it made with durable and eco-friendly materials?
Does it have a rechargeable battery with a long-lasting charge?
Is there a timer so you don't have to use more electricity than necessary?
Does the parent company follow sustainable manufacturing practices?
Do you already have an electric toothbrush and you want to make it more sustainable? That's no sweat! Just check out this list of the best bamboo electric toothbrush replacement heads.
Also, don't forget that an electric toothbrush is only part of a sustainable oral care routine in your zero waste bathroom. To make sure everything you use is better for yourself and the environment, be sure to take a look at these other helpful posts:
Eco-Friendly Electric Toothbrush: 6 Sustainable Options You'll Love
Now that you know what to look for when choosing an eco-friendly electric toothbrush, here are some top options that check off many of the important factors mentioned above.
1. Etee Bamboo Electric Toothbrush
Etee makes a variety of must-have eco-friendly bathroom products that you'll absolutely fall in love with, and one of those products happens to be this bamboo electric toothbrush.
The electric toothbrush has a sleek design and a 100% recyclable body that provides a professional-grade clean with built-in timers and multiple cleaning settings. It includes a matching micro-USB charging cable, and you only have to charge it around once a month.
It also includes 3 replaceable toothbrush heads that are made with bamboo and castor-bean oil bristles. This means the heads are 98% compostable!
Once the head reaches the end of its useful life, simply use pliers to remove the bristles, toss the bamboo head into your compost bin, and pick up a set of replacement heads.
Best of all, when you sign up for the convenient subscription plan, you don't even have to remember to order the heads. They ship directly to you every 6 months at a reduced price to help you save money!
Plus, since etee is one of the best online zero waste shops, you know everything you get is completely free of plastic waste!
Related: How to Shop at a Zero Waste Store
2. Sustainable Tomorrow Bamboo Electric Toothbrush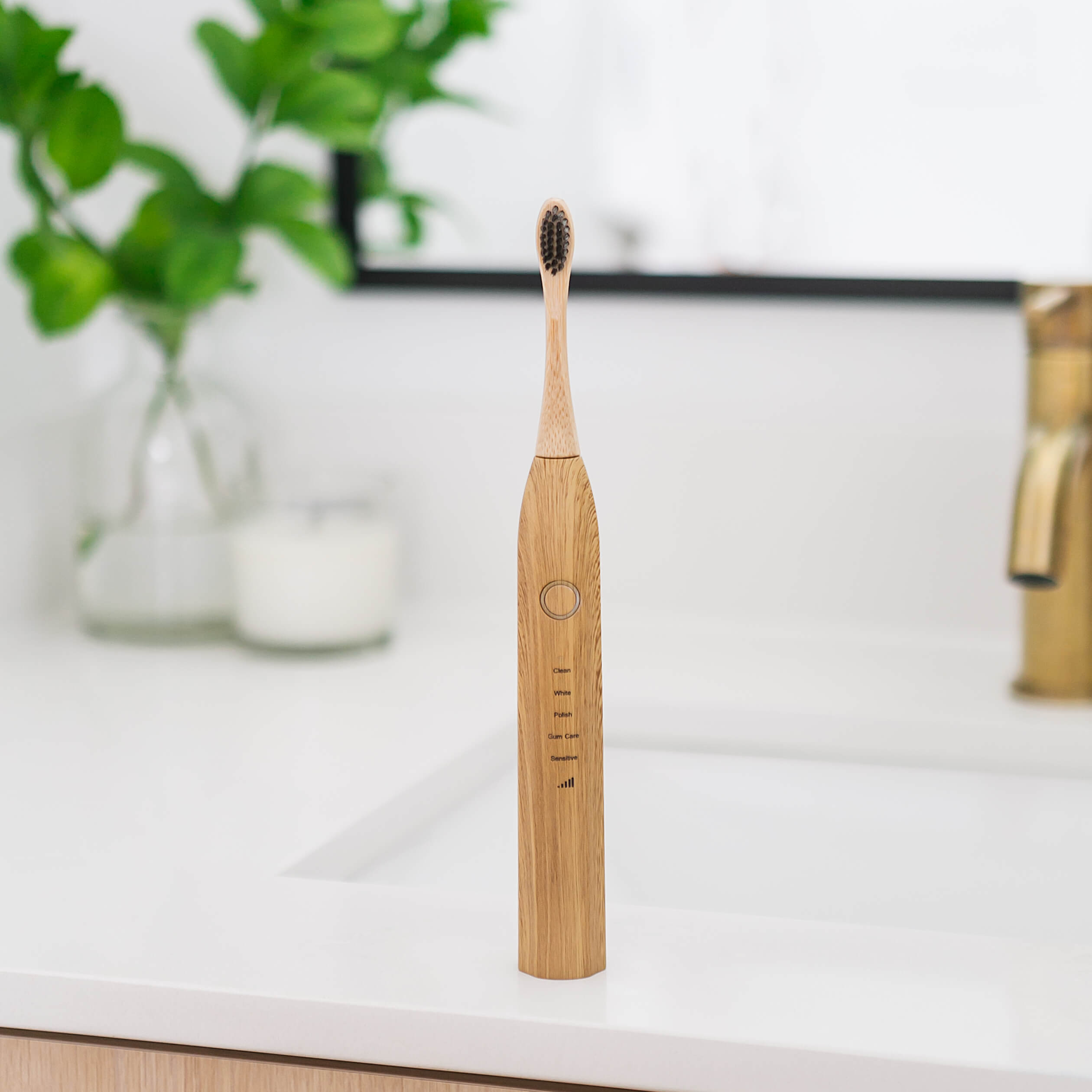 All the design materials in this bamboo electric toothbrush from Sustainable Tomorrow are compostable, biodegradable, or recyclable — including the zero waste packaging and delivery.
The brush has 3 intensity levels and 5 cleaning modes that range from sensitive to whitening, so you can perfectly customize your brushing routine to your needs.
The extra-long battery life means you can go up to a month between charges, which helps you save energy and money. You also get 4 replacement heads that each last up to 3 months, so you'll be all set for an entire year as soon as you receive your toothbrush.
The replacement heads are made from bamboo and plant-based castor seed oil bristles. While you can't legally call them compostable because they take more than 3 months to break down, they will biodegrade in about 6 months.
This makes them substantially better and more sustainable than petroleum-based plastic bristles!
When the heads reach the end of their useful life, these replacement heads are the perfect fit.
You can even pick up this bamboo travel box to help keep your toothbrush secure and clean when you travel.
Related: How to Easily Make Your Vacations More Eco-Friendly
3. FOREO ISSA Silicone Electric Toothbrush
If you're not quite sure about using bamboo as a toothbrush, you can still get a more sustainable option by choosing this FOREO ISSA silicone electric toothbrush. The toothbrush is made of medical-grade silicone, so it's free of BPA and phthalates.
After just 2 hours of charging, the battery lasts an incredible 365 days. (Yes, that's right, an entire year!) This is a great way to save time and money.
The brush also includes a built-in timer, travel lock, and 16 adjustable intensities with a smart memory feature.
The replaceable brush heads are flexible, sturdier, and more hygienic than plastic bristles. They also include a tongue and cheek cleaner on the other side for a full-mouth clean. Plus, you only need to change them every 6 months.
FOREO ISSA even makes a silicone sonic toothbrush for kids that comes in fun colors and is the perfect size for smaller mouths.
Related: How to Make DIY Tub and Shower Cleaner for Easy and Natural Cleaning
4. PearlBar Bamboo Sonic Electric Toothbrush
This PearlBar bamboo sonic electric toothbrush comes with everything you need to start brushing sustainably. The brush uses sonic vibrations to polish your teeth and quickly and easily dislodge debris.
It has 5 cleaning modes and 3 intensity levels so you can select the exact type of clean you need.
It also includes 3 bamboo brush heads wrapped in biodegradable wrappers with 3 different bristle types. To get started, simply choose the bristle type you want to use and pop it on the toothbrush.
The charcoal head helps natural whiten teeth, the spiral bristle head is ideal for sensitive teeth and gums, and the Tynex bristle head offers outstanding plaque removal. When the head you're using wears out, you can replace it with one of the replacement heads.
Related: Save Trees With These Top Eco-Friendly Toilet Paper Brands
5. Briut Essentials Bamboo Electric Toothbrush
You can enjoy a cleaner and healthier smile while still focusing on your sustainability goals with the Briut Essentials bamboo electric toothbrush. The toothbrush comes in plastic-free packaging and includes a charging station and USB cable.
You also get 3 bamboo toothbrush heads with soft and medium bristles. The heads are infused with charcoal to help whiten your teeth and provide a more thorough clean.
The waterproof toothbrush has 5 cleaning modes and a 2-minute timer. To help you save time and money, one charge provides over 30 days of use.
Related: Why You Should Never Use Bleach to Clean Shower Mold (And What to Use Instead!)
6. Electric Bamboo Toothbrush
This sleek electric sonic toothbrush comes with 3 replaceable bamboo brush heads that are made of natural bamboo and plant-based bristles. It also has 3 cleaning speeds and 5 cleaning modes for an effective clean that helps remove plaque and polish teeth.
One charge will last more than 80 cycles, and the 2-minute timer and 30-second change zone reminder ensures your teeth get clean without wasting energy.
When the bamboo head wears out, you can simply compost it and replace it with one of these compatible replacement heads.
Related: Naturally Clean Your Bathroom With These Simple DIY Cleaning Products
Best Environmentally Friendly Electric Toothbrushes
You love how clean and healthy your mouth feels after using an electric toothbrush, but you hate how wasteful the plastic heads are. Fortunately, you don't have to give up that thorough cleaning just to live more sustainably.
Instead, you can help the environment AND enjoy clean teeth when you choose the best eco-friendly electric toothbrush.
More Eco-Friendly Living Tips
Did you enjoy learning more about the best eco-friendly electric toothbrushes? Interested in discovering even more helpful tips on sustainable living? Then please be sure to take a look at some of our other popular posts: