10 Best Eco-Friendly Toilet Cleaners for Green Cleaning
Cleaning the toilet isn't exactly the most exciting household chore out there. But did you know depending on what type of cleaner you're using, it could be doing damage to your health AND the environment? That's why it's so important to choose one of the best eco-friendly toilet cleaners.
But how do you know what to look for when shopping for an eco-friendly toilet cleaner? And how do you know which sustainable toilet bowl cleaners will actually quickly and easily clean your toilet?
You'll discover the answer to all of these questions and more when you check out this list of the best eco-friendly toilet cleaners!
Are Toilet Cleaners Bad for the Environment?
Many household cleaners are not only bad for the environment, but they can also be toxic to your health. If you're trying to make your bathroom more eco-friendly, you need to focus on more than just reducing waste with sustainable health and beauty products. You also have to take a look at the cleaning products you use!
As an example, consider a very common cleaner such as Lysol Cling Gel Toilet Bowl Cleaner. The Environmental Working Group (EWG) gives this cleaner an F rating because of its health and environmental concerns.
Some of the most concerning ingredients in this toilet cleaner include:
Glyoxal– cancer, damage to DNA, aquatic toxicity, general organ damage, skin irritations
Didecyldimethylammonium Chloride– skin irritations, general organ damage, respiratory effects, damage to vision
Sodium Hydroxide– damage to vision, respiratory effects, skin irritations
Alkyl Dimethyl Benzyl Ammonium Chlorides– general organ damage, respiratory effects, developmental and reproductive effects
And these are just some of the ingredients! There are also plenty more, including the dreaded "fragrance," which can hide thousands of other ingredients whose health and environmental effects we don't know about.
Top-Rated Eco-Friendly Toilet Bowl Cleaners and Tablets
Now that you know more about the concerns of traditional toilet bowl cleaners, you're probably ready to ditch that bottle for something that's safer and better. Whether you're interested in tablets, strips, powders, or liquids, you can find something that will get your toilet sparkling clean without any effort when you make the switch to one of these best eco-friendly toilet cleaners.
1. DIY Toilet Bowl Cleaner
Did you know it's really easy to make your own natural toilet bowl cleaner using simple ingredients you likely already have at home? It is when you check out the directions on how to make these DIY toilet cleaning tablets!
These toilet cleaning tablets do an amazing job of getting your toilet clean. Simply plop them in, let them fizz, and then give your toilet a quick scrub.
Plus, for times when your toilet just needs a little deodorizing between cleanings, you can make these homemade toilet refreshing tablets.
Even better, your toilet isn't the only thing in your house you can green clean. In fact, you can completely rid your home of all toxic cleaning products with this DIY natural cleaning products bundle!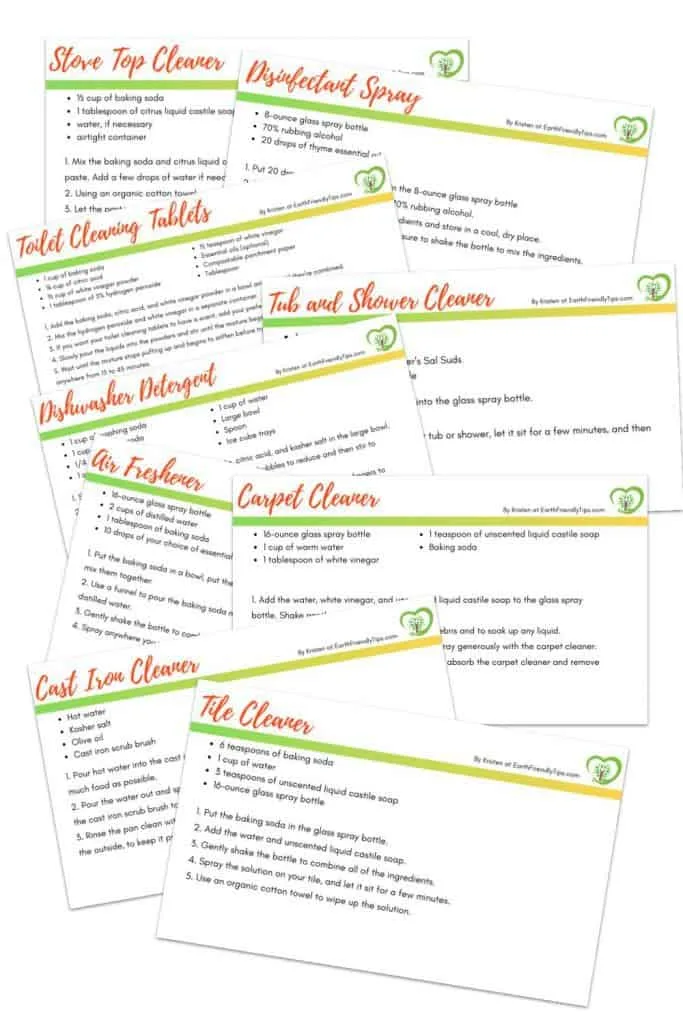 This outstanding bundle comes with 25 recipes for natural cleaning products you can use around your entire home. Not only that, you'll also get labels for your natural cleaning products, a guide on my favorite essential oil cleaning blends, and a cheat sheet on the natural cleaning ingredients you should never mix together.
Thanks to this bundle, you'll have everything you need to green clean your whole house right at your fingertips!
Related: Everything You Need for Naturally Cleaning Your Home
2. Etee
From incredibly effective beeswax wraps to outstanding health and wellness products, Etee offers pretty much everything you need to live a more sustainable life, including one of the best eco-friendly toilet bowl cleaners.
This toilet cleaner was designed to make this chore effortless. Instead of using harsh chemicals, the cleaner uses probiotics to help keep your toilet dirt-free and refreshed between cleanings.
To use, simply add one tablespoon of the cleaner to your toilet bowl and let it sit for a few minutes. As the cleaner bubbles and foams, it breaks down dirt and stains so all you have to do is give the toilet a quick scrub to get it clean.
You can choose the toilet cleaner with the light and refreshing citrus scent, or you can opt for the unscented variety.
No matter which one you decide to get, you know you're getting a cleaner that's safe to use with septic systems, wasn't tested on animals, and doesn't contain any heavy chemicals. Plus, since it comes from one of the best zero waste online stores, you also know it will show up right to your door without any plastic waste!
Related: How to Easily Start Reducing Waste This Very Second
3. Tru Earth Eco Strips
You might be familiar with Tru Earth because of their excellent laundry detergent strips. But did you know they also make innovative toilet cleaning strips?
Thanks to these eco strips, you don't have to worry about drips, spills, or measuring out the correct amount of cleaner. Even better, you know you're getting a cleaner that's better for the environment because you never have to deal with a plastic jug you can't recycle.
To use, all you have to do is tear off a strip, drop it in your toilet bowl, give it a few minutes to dissolve in the water, and then give the bowl a quick scrub with your toilet brush.
The cleaner in the strip does all the work of eliminating dirt and germs so you can enjoy a clean and fresh bathroom. In addition to being easy, effective, and eco-friendly, these strips are also safe for septic systems and never tested on animals.
Plus, since the eco strips are packaged in a plastic-free cardboard sleeve you can compost when empty, you don't have to worry about any waste!
Related: How to Make a 2-Ingredient DIY Tub and Shower Cleaner for a Spotless Bathroom
4. Blueland
Blueland makes a variety of zero waste cleaning products you can use in your bathroom, including safe and effective hand soap and these toilet cleaning tablets.
These tablets are tough on dirt and grime, yet gentle on the environment. Plus, they're amazingly easy to use!
Simply drop a tablet in your toilet, let it fizz and foam, give your bowl a quick brush, and you're all done. Now you have time to do things you actually enjoy!
While this bio-based cleaner doesn't contain any dyes, chlorine bleach, or hydrochloric acid, it's still proven by independent labs to effectively remove a variety of stains, including hard water, limescale, mineral deposits, and rust.
Plus, the vegan and Leaping Bunny certified cruelty free tablets have a lemon cedar fragrance made with 100% essential oils that will leave your bathroom smelling great.
When you get these toilet cleaning tablets for the first time, you either reuse a storage container you already have at home, or you can purchase the toilet cleaner starter set that includes a convenient storage container. Then you can simply pick up the refill tablets and enjoy zero waste toilet cleaning!
Related: 23 Must-Have Eco-Friendly Bathroom Products You'll Adore
5. Zero Waste Cleaning
In addition to making an amazing glass cleaner that will leave your windows and mirrors sparkling clean, Zero Waste Cleaning also makes one of the best eco-friendly toilet cleaners. These bathroom cleaner tablets will free up plenty of storage space since they can handle removing dirt, grime, and soap scum from showers, tubs, sinks, AND toilets.
To make the cleaner, simply pour warm water into your refillable spray bottle, drop in a tablet, and let it dissolve. When you need to clean your toilet, just spray the solution in the bowl, let it sit for a few minutes, and then use your brush to give it a quick scrub.
You can then spray the solution on other surfaces of your bathroom to get the entire room clean using just one cleaner made with plant-based, biodegradable ingredients.
Plus, to ensure your entire cleaning process is as eco-friendly as possible, ditch those paper towels and use one of these best reusable paper towels. Not only will you be saving trees, but you also won't be producing any unnecessary waste!
Related: How You Can Save Trees With This Toilet Paper (Yes, Really!)
6. Juniperseed Mercantile
Johnny Drops Toilet Cleaning Bombs from Juniperseed Mercantile make it easy to clean your toilet without any harsh chemicals.
All you have to do is place one Johnny Drop in your toilet, wait a few minutes, and clean like usual. The natural ingredients will freshen your bathroom and leave your toilet sparkling clean.
You can feel good knowing you're using a cleaner that's non-toxic and septic system safe. Plus, they come in paper packaging that you can either recycle or compost when it's empty.
Is your garbage disposal getting a little stinky? You can also use one of these Johnny Drops to clean it. Simply break the ball into smaller pieces, drop them in your disposal, and run hot water while operating the disposal.
Did you know you can also use orange peels to naturally clean your garbage disposal? That's not the only thing you can do with them! Make sure you check out this post on genius ways to reuse orange peels to learn about 20 unique ways you can use them around the house.
If you decide to try out Johnny Drops toilet cleaning bombs, you can get them from EarthHero. Be sure to use the code EARTHFRIENDLY to enjoy 10% off your order!
Related: The Best Sustainable Dishwasher Detergent for Naturally Clean Dishes
7. Tiny Yellow Bungalow
This zero waste toilet cleaner from Tiny Yellow Bungalow uses natural ingredients specially formulated to reduce toilet bowl rings from mineral deposits. It also uses lemon, sweet orange, and lavender essential oils to freshen your bathroom with an amazing scent you'll love.
Best of all, these toilet cleaning tablets couldn't be easier to use. Just drop one in the bowl, wait a few minutes so the tablet completely dissolves, and then finish up with a quick scrub.
As long as you store the tablets in an air-tight container, they'll stay fresh and effective for months.
Plus, unlike liquid cleaning products, which are almost all water, these concentrated tablets are water-free, which helps reduce shipping costs and packaging waste. In fact, they arrive in 100% biodegradable plastic-free packaging for zero waste cleaning!
Related: Affordable Eco-Friendly Bathroom Products You Can Get From Amazon Aware
8. Rosey
If you prefer a liquid toilet cleaner in a more traditional bottle, check out this Rosey toilet bowl cleaner. This cleaner uses a mineral- and plant-based formula to eliminate mold, stains, and odors.
Even better, this product thoroughly cleans your toilet without using any phthalates, parabens, dyes, synthetic fragrances, ammonia, or chlorine. You'll also be pleased to know the cleaner is vegan and Leaping Bunny certified cruelty free.
Since the formula is biodegradable, the cleaner is safe for septic tanks.
Rosey is made exclusively by Thrive Market, which is also one of the best places to shop for affordable organic food online. For a limited time, you can get 40% OFF your first order and a FREE gift when you join. So be sure to sign up for Thrive Market today!
Related: Help Your Bathroom Smell Fresh and Clean With These Non-Toxic Air Fresheners
9. Nature Clean
Nature Clean toilet bowl cleaner strips are ultra-concentrated sheets of toilet cleaner designed to make it quick and easy to clean your toilet without any harsh chemicals.
The cruelty-free toilet bowl cleaner strips are made without any bleach or chlorine, so you don't have to worry about any toxic fumes when you're cleaning. They're also non-corrosive and won't leave any marks behind.
Since the sheets are pre-measured, you don't have to worry about any spills, drips, or measuring. Plus, they dissolve fast in all types of toilets.
To use, simply drop one strip into the toilet bowl, let it dissolve, and use your toilet brush to clean the bowl. The biodegradable formula is septic friendly and helps reduce pollution in the environment.
Additionally, since there's no plastic bottle to deal with, you can enjoy zero waste cleaning that's amazingly effective!
Related: How to Do a Home Waste Audit (And Why It's so Important!)
10. Ecover
This Ecover toilet cleaner is made with renewable, plant- and mineral-based ingredients that decalcify and remove tough stains while they freshen.
Since it comes as a traditional liquid cleaner, it's very easy to use. Just squirt a small amount of cleaner under the toilet rim, let it sit for a few minutes, and then scrub with a toilet brush if needed.
The cleaner biodegrades to ensure nothing harmful is left behind. It's also safe for septic tanks, Leaping Bunny certified cruelty free, and not tested on animals.
Although this cleaner comes in a bottle, the bottle is made from 100% plant plastic and is completely recyclable.
Related: Amazing Things You Never Knew You Could Clean With Vinegar
How to Use Eco-Friendly Toilet Bowl Cleaners
The great thing about making the switch to one of these best eco-friendly toilet cleaners is that you don't have to change how you clean your toilets. They work exactly like all of your traditional cleaners.
Simply put the cleaner in your toilet bowl, let it sit for a minute or two, and then use a toilet brush to give the bowl a quick scrub.
If your old toilet brush is starting to wear down and you need a new one, I highly recommend this Scrub Queen toilet brush from Full Circle Home. It's the toilet brush I use in my own bathrooms, and it does an amazing job of quickly and easily scrubbing my toilets clean.
My favorite feature is the upward-angled bristles on one side of the brush head to help clean under the toilet rim.
The toilet brush is made from eco-friendly materials, including bamboo, recycled aluminum, and recycled plastic. It tucks neatly away into the sleek ceramic holder that has a no-slip base and a clay disc that helps absorb water and prevents mold and bacteria from growing.
Plus, to help cut down on waste and save you money, you can simply pop off the replaceable head and put on a new one when it wears out.
Are you looking for even more great tools that can help make your cleaning routine more eco-friendly? Then don't forget to check out these top sustainable sponges for zero waste cleaning!
Best Easy-to-Use and Eco-Friendly Toilet Cleaners
Cleaning the toilet isn't a glamorous task, but it's definitely a necessary one. While these best eco-friendly toilet cleaners won't make the chore any more exciting, they will help make it safer and healthier for you and the environment!
More Outstanding Tips on Sustainable Living
Did you enjoy learning more about the best eco-friendly toilet bowl cleaners? Are you interested in discovering even more helpful tips about eco-friendly living? Then please be sure to take a look at some of our other popular posts: