How to Make Your Own DIY Yoga Mat Cleaner Spray
Yoga is a great exercise for dealing with stress, keeping your muscles loose and limber, and helping you naturally get a better night's sleep. It's important to clean your yoga mat after each workout to remove dirt, grime, and germs and to reduce odors caused by bacteria and sweat. Fortunately, a DIY yoga mat cleaner is easy to make and highly effective!
Before cleaning your yoga mat, it's always important to check the manufacturer's cleaning instructions. You want to make sure you're cleaning the surface of your yoga mat without damaging it.
When you're ready to get cleaning, check out how to make a DIY yoga mat cleaner and learn how to use it so you can properly clean your mat.
Plus, if you don't have time to DIY, that's not a problem! These natural yoga mat wipes are the perfect solution. They're made using natural cleaning ingredients like vinegar and essential oils, which means they're skin-safe, pet-safe, and kid-safe.
Why Use a Yoga Mat Spray?
Yoga mats that aren't cleaned can have up to 100,000 bacteria per cubic centimeter. That's a lot of really gross stuff you don't want getting on your hands and face!
This is especially true for shared yoga mats. So, if possible, it's a good idea to purchase and use your own yoga mat.
While you can certainly buy yoga mat cleaners, homemade ones are easy to make and very affordable. So why bother wasting money when you don't have to?
Plus, it's always good to have a cleaner that doesn't have to be washed off and won't irritate your skin the next time you use your mat.
Related: Natural Ways to Increase Your Energy Right This Second
Easy DIY Yoga Mat Cleaner Spray Recipe
Now that you know why you should make a homemade yoga mat cleaner spray, here's what to gather so you can get started:
Materials Needed
Directions
Using the funnel, pour the water and white vinegar in your spray bottle.
Remove the funnel and add 3 drops of tea tree essential oil.
If you would like your DIY yoga mat cleaner to have a light scent, add 2 to 4 drops of your favorite essential oils into the bottle.
Cap your bottle and shake it lightly to combine.
If you typically attend yoga class outside of your home, pour some of the cleaner into a small bottle to make it easier to carry it to class.
How to Use Your Yoga Mat Spray
Once you have your homemade yoga mat cleaner mixed together, follow these steps to properly clean your mat:
Lay your yoga mat out on a flat surface and spray the entire surface with the cleaning mixture.
Using a clean towel, rub the cleaner into the mat in a circular motion. Then wipe away any excess moisture.
Leave your mat flat and allow it to air-dry.
Once your mat is dry to the touch, you can roll it up.
How to Deep Clean Your Yoga Mat
While this DIY yoga mat cleaner is great for cleaning between classes, you can't rely on it alone to make sure your mat is thoroughly clean. For that, you need to do a deep clean.
The frequency of deep cleaning your yoga mat depends on where and how often you use it. However, you should aim to deep clean it at least once a month.
Here are the steps to follow to deep clean a yoga mat:
Fill a bathtub with a few inches of warm water.
Use a washcloth and a little bit of dish soap to wash both sides of the mat.
Remove the mat from the bathtub and hang it on a towel rack or over the shower curtain rod to air-dry. (Don't forget to put a bath mat or towel under the yoga mat to catch the drips!)
Once it's dry, you can roll up your yoga mat and put it away.
Keep in mind that you should never use an abrasive cleanser or a rough sponge to clean your yoga mat since they can damage the material.
Related: 8 Things You Should Never Clean With Vinegar
Green Cleaning Your Entire Home
This DIY yoga mat cleaner spray is a fantastic way to naturally clean your mat. It's also not the only thing you can green clean in your home!
If you're interested in getting your entire house clean without using any dangerous or toxic chemicals, you absolutely must get these printable cleaning recipe cards and labels.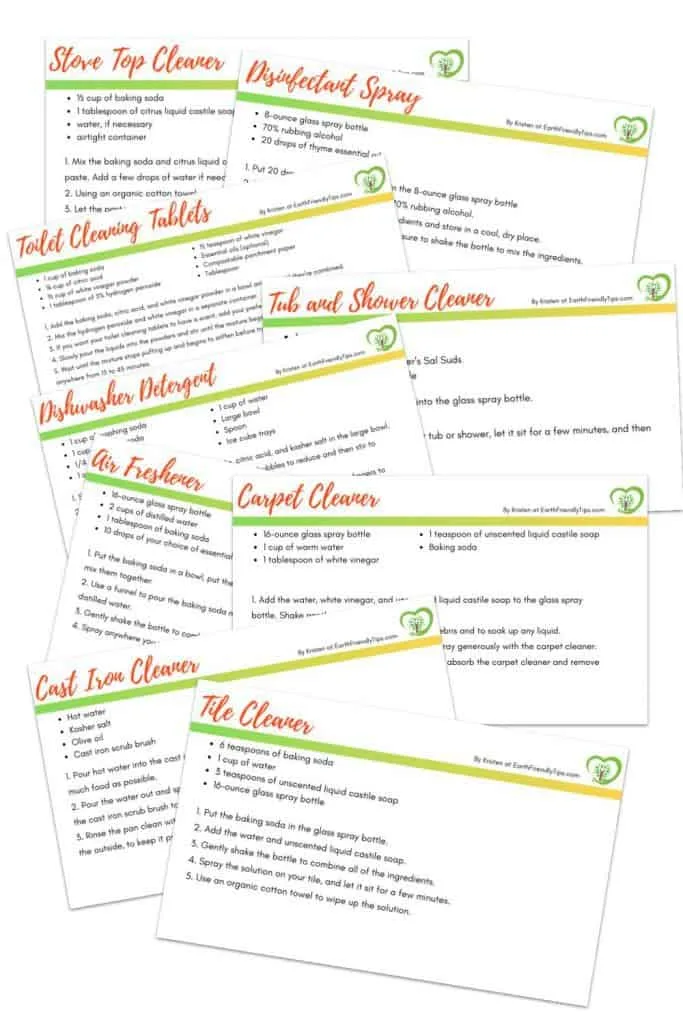 This bundle makes it super easy to get started with natural cleaning because it includes everything you need! It has over 25 natural cleaning product recipe cards and labels you can use in every room of your house.
You'll also get a guide to my favorite essential oil cleaning blends and a cheat sheet on the natural cleaning ingredients you should never mix together.
Thanks to this bundle, you'll have everything you need to start naturally cleaning your home right at your fingertips!
Related: The Complete List of Natural Cleaning Supplies You Need for Green Cleaning
Keep Your Mat Germ-Free With a DIY Yoga Mat Cleaner
When you're clearing your mind and strengthening your body during your yoga routine, you don't have to worry about what kinds of dirt and germs might be on your mat. That's because this easy-to-make DIY yoga mat cleaner makes it simple for you to keep your mat clean and refreshed at all times!
More Helpful Eco-Friendly Tips
Did you enjoy learning how to make a DIY yoga mat cleaner? Are you interested in discovering even more tips that can help you live an eco-friendly life? Then please be sure to take a look at some of our other popular posts: